Our Alaska Guides
Our team is competent, skilled, trained, and experienced!
It takes a talented individual to be able to lead an Alaska expedition, and our Alaska guides are true outdoor multi-sport professionals. We hand-select each guide based on their ability to deliver an unparalleled level of customer service, a strong wilderness skill set and background, and an insatiable passion for Alaska's wild spaces. Each lead guide is medically certified as a Wilderness First Responder and carries the necessary qualifications to competently backpack, hike, kayak, canoe, and climb throughout Alaska's vast wilderness. When you choose to travel with us, you can rest assured that your trip has been meticulously planned and executed by real Alaskans with authentic Alaska know-how, skill, and ability.
Aaron Fetter
Aaron has been guiding for Alaska Alpine Adventures since 2003 and his passion for the wilderness grows with every adventure. He came to Alaska in 2001 to complete a bachelor's degree in outdoor studies at Alaska Pacific University and pursue a lifelong dream of guiding in Alaska. Most recently, Aaron co-founded Adventure Appetites – offering Alaska Alpine Adventures' gourmet food to adventurers everywhere. Through the years, Aaron has divided his time managing operations, packing food, and exploring Alaska's wild places. Whether traversing remote mountain ranges, climbing high on an Alaska peak, or packrafting a wild & scenic river, Aaron says, "I find inner peace while immersed in Alaska's most remote backcountry." Aaron is a Wilderness First Responder and certified Whitewater Rescue Technician. He lives in Anchorage with his wife Adele and daughters Emily & Samantha.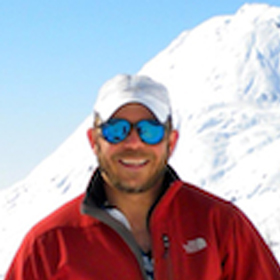 Matt Beckage
This long-time Alaskan lives year-round in the Mastanuska-Susitna Valley. Matt has extensive backcountry experience and when he's not in town you'll most likely find him in the broad expanses of the Chugach or Talkeetna mountains. He juggles his time between family, climbing, skiing, cooking, teaching, and exploring the many wonders of the Last Frontier. Matt's passion is "immersing explorers in the moment and sharing the majesty of this Great Land!" His enthusiasm, quick wit and humorous tales are sure to keep you smiling on your adventures. Matt is retired military and holds degrees from the University of Scranton, Embry-Riddle Aeronautical University and the University of Alaska Anchorage. Matt is a Wilderness First Responder and holds an AIARE Avalanche Level 2. He's also a Wounded Warrior Project Alumni and a Certified Peer Mentor.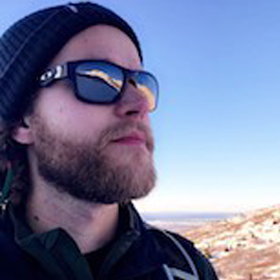 Matt Dighton
Matt was born and raised in Alaska, where he spent his childhood hunting, fishing, camping, hiking, and canoeing in the vast and remote wilderness of the Interior. Matt joined the AAA team in 2015 after graduating from the University of Alaska Anchorage with a bachelor's degree in Health, Physical Education and Recreation, with an emphasis on Outdoor Leadership and Administration. When not sharing the backcountry of his beautiful home state with our guests, you can find him backpacking, biking, climbing, and snowboarding in the mountains around Anchorage. Matt is a certified Wilderness First Responder and Whitewater Rescue Technician.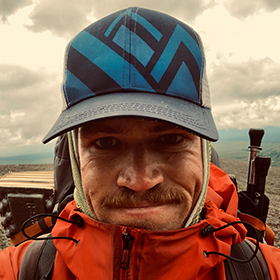 Sean Johnson
Sean was born and raised in Pennsylvania. He came to Alaska in 2014 to attend school at Alaska Pacific University, pursuing a degree in Outdoor Studies and quickly realized Alaska was home for him. He began guiding for AAA in 2015 and fell even more in love with his new home state. In his free time, you can find him backpacking, skiing, packrafting, climbing or flyfishing. Sean's passion for the outdoors and exploring has taken him all around the globe, but nothing quite lives up to his home here in AK. His love of nature, wildlife and the lands that we adventure on is contagious. Always a fan of a good laugh, and cold beer with friends. Sean has a B.A in Outdoor Studies with a concentration in Snow Science, he is a Wilderness First Responder, Avalanche Level 2 and Swiftwater Rescue certified.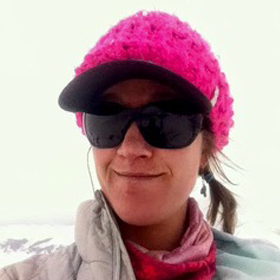 Sara Olbright
Sara was born and raised in Colorado. Mountains have always been a huge part of her life. Looking for bigger and more remote mountains, Sara ventured to Alaska to explore the large glaciated peaks. She quickly became addicted to the state's remoteness and challenging terrain. The last ten years Sara has been living her dream working as a mountaineering guide. In the winter Sara returns to Colorado and works as a ski patroller specializing in snow safety. She attended Western State Colorado University and received a B.A. in Outdoor Leadership and Resort Management. She continued her professional medical training by receiving her Wilderness EMT. Sara has also completed an Avalanche Level 3 and is a Leave No Trace Master Educator. When not guiding, Sara can be found skiing and climbing around Alaska.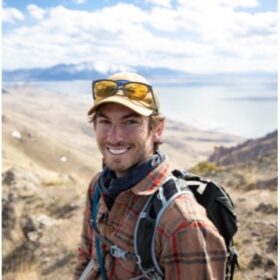 Michael Kleinman
Michael first began challenging himself in Alaska's wilderness back in the Summer of 2018. He grew up in the diverse metropolitan city of Miami, but a decade ago Michael left to pursue a career in the outdoors. Michael has lived and worked in multiple U.S. National Parks and his wilderness expeditions have taken him as far as the Southern Alps of New Zealand and southern Chile. Michael is a Wilderness First Responder and earned a professional level one avalanche certification. Depending on the season you may find Michael traversing a ridge high in the San Juan Mountains of Colorado looking for the best backcountry pow to ski, bikepacking in South America or cackling with our guests here in Alaska's vast wilderness over a stout cup of joe.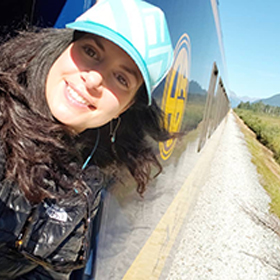 Melissa Chiella
Melissa is a NY native but left the busy streets and her legal career 11 years ago to follow different dreams. She's since been exploring the globe while pursuing a new career in front and back-country wilderness guiding in America's National Parks and was lead trainer and General Manager for an outdoor travel brand. She is a freelance travel & adventure writer tying in all the things she has learned and loved over the years. Melissa now calls the west coast home, splitting her time between beautiful Lake Tahoe and wild Alaska. Alaska keep bringing her back for more as she has been a guide for AAA for 3 seasons now. The rising peaks, crisp mountain air and creamy blue glacial pools keep her inspired and excited to share what the Final Frontier has to offer. With many years of travel experience, hiking adventures, cultural exposure, and professional guiding, she looks forward to sharing her colorful experiences with you in Alaska. Melissa is a certified Wilderness First Responder (WFR), California Naturalist, Swift Water 1 Rescue, Avalanche 1 Rescue (AIARE) and Lifeguard.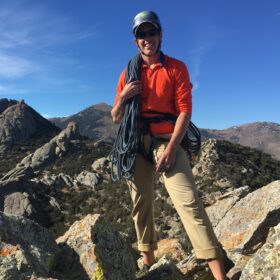 Alex Mansir
Alex grew up hunting, fishing, and camping in Illinois. Now he balances his time between skiing, climbing, and backpacking around Alaska and Utah. In the winters Alex works on Ski Patrol for Park City Mountain, and since 2018 has spent his summers with the amazing guests at Alaska Alpine Adventures. He believes experiencing the challenge and wonder of the natural world is essential to the human experience. Drawing on his foundation of outdoor leadership as an Eagle Scout, his B.S. in meteorology and geology from Western Illinois University, and his numerous personal adventures, Alex, is stoked to share his passion for Alaska's great wilderness. Alex is a certified Wilderness First Responder, and has completed an AAI Avalanche Level 1 course.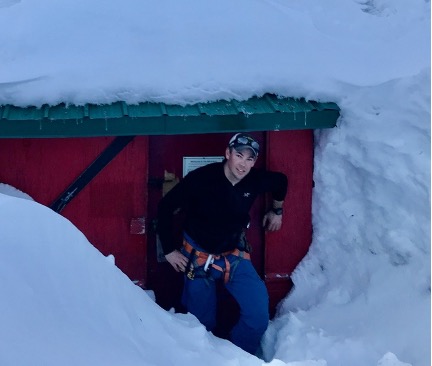 Jamie Haines
Jamie grew up running and skiing throughout the Mountains of Alaska, and spending summers in Lake Tahoe. After high school Jamie joined the military and eventually found his way onto the National Guard Biathlon Ski team, competing in Europe and South America. He then started to change his ski racing focus to Backcountry skiing, Mt biking, and Mt running where it brought him into the outdoor leadership program at UAA. After founding the UAA Outdoor Club and finishing school, He has become more passionate about backcountry adventure than ever! In his free time, you can find Jamie putting together some type of multi-sport adventure trip and tinkering with his bikes and skis.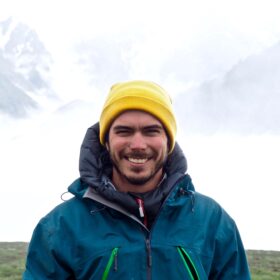 Jack Teague
Jack spent his early years exploring the trails, rivers and rock of the Appalachian mountains. He gradually moved westward to larger and larger landscapes. He moved to Colorado to attend the University of Colorado and earned his B.A. in Cultural Anthropology. His journey to Alaska started with a long road trip, that turned in to an internship, morphed into an obsession, and finally became a profession. Jack has spent the last five summers guiding backpacking, ice-climbing and packrafting adventures in Wrangell St. Elias National Park. Nothing makes him happier than sharing wild places with friends old and new. When he's not guiding, Jack can be found climbing, split-boarding, packrafting, or working his other job building zip lines and challenge courses all over the U.S.. Jack is a Wilderness First Responder, a member of the Society of Professional Rope Access Technician's and has his Avalanche Level 1.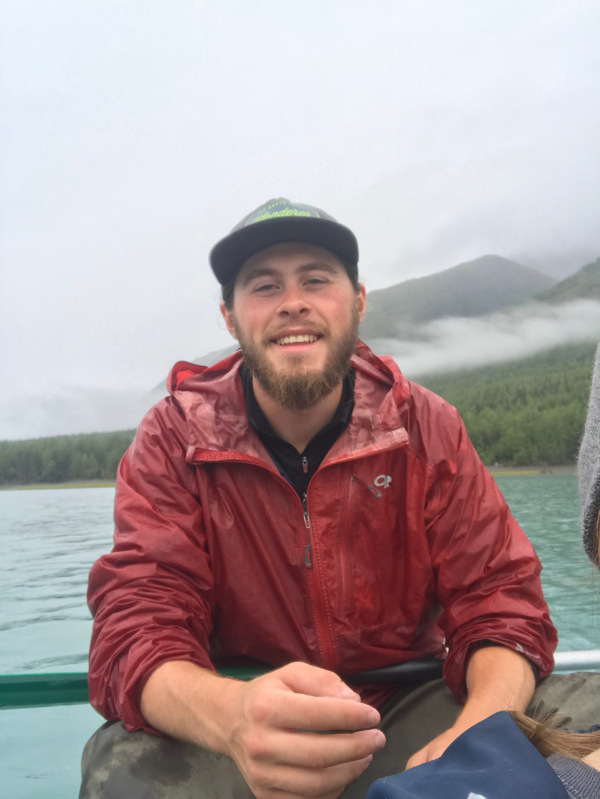 Brian Cantor
Brian was born and raised in Anchorage, Alaska. Brian has been working for AAA since the summer of 2019. He was introduced to the Alaska backcountry from a very young age paddling rivers, backpacking, and dog mushing with his family. In his free time, he enjoys split-boarding, snowmobiling, mountain biking, pack rafting, climbing, and camping with his dog. He is pursuing a bachelor's degree in Outdoor Studies at Alaska Pacific University with a concentration in Snow Science.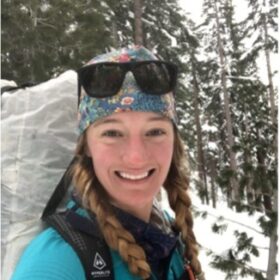 Chelsey Cook
Chelsey was born and raised in the woods of New Hampshire. She spent her formative years skiing, hiking, and sleeping outside. When the Army stationed her in Fairbanks, Alaska in 2015, she promptly fell in love with the state and spent every available moment exploring its far corners by foot, skis, and packraft. Chelsey currently spends spring and summer guiding and playing in Alaska, and for the rest of the year, she can be found anywhere from the Cascades of Washington to the deserts of Utah, mountain biking, climbing, and canyoneering. She is also working towards dual masters' degrees in the U.K., works in environmental advocacy, and reads more than is healthy. Chelsey is a certified Wilderness EMT, a Leave No Trace Master Educator, and has completed her AAA Avalanche Pro 1.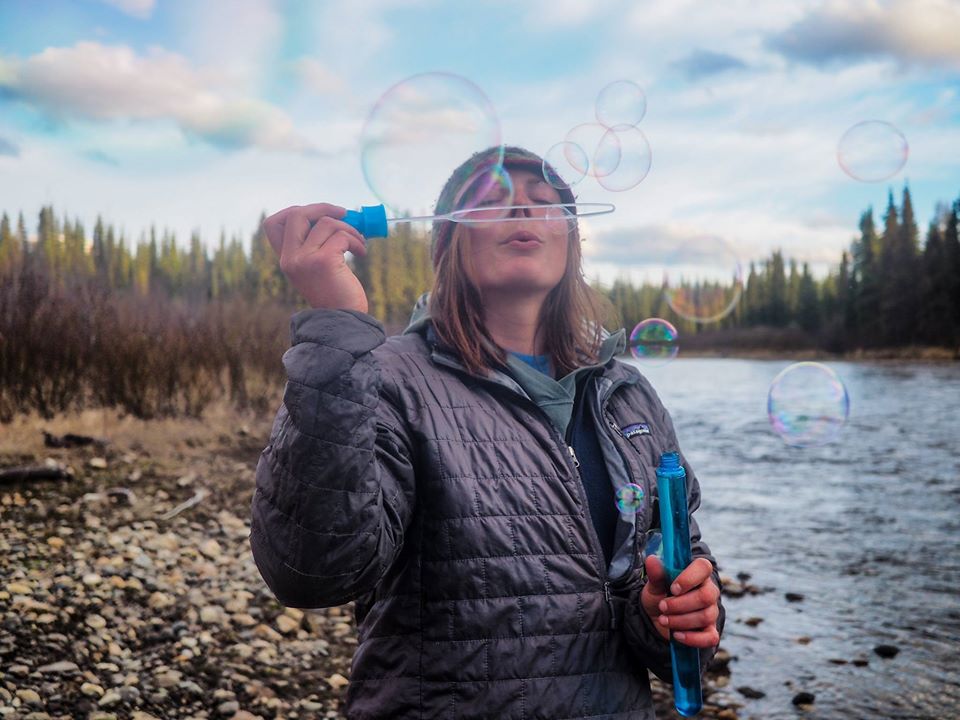 Kira Despins
Kira is Canadian by birth, but Alaskan by heart. In 2009, she first fell in love with Alaska while working as a zipline guide over a bear sanctuary. With a degree in Environmental Studies, her passion of learning more about the areas she resides coincides with passions of exploring mountains, sea kayaking, and harvesting flora for natural salves and tasty meals. Fiddle head pesto anyone?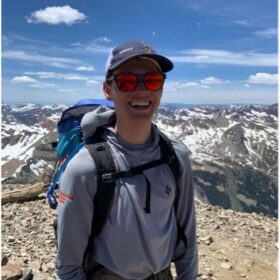 Dominic Gawel
Dominic was born and raised in Long Beach, California and grew up exploring the mountains of Southern California by joining Boy Scout Troop 212. Boy Scouts was a huge part of Dominic's life where he earned the rank of Eagle Scout. Despite a city upbringing, he has an unmistakable passion for snow and skied every weekend in the local mountains. He moved to Gunnison, Colorado to attend Western Colorado University where he earned a B.A. in Outdoor Leadership and a B.A. in Environment and Sustainability. While in college, Dominic was an active member of the Western Mountain Rescue Team where he served positions as Historian, President, and Mission Coordinator. In the summers, Dominic returned to California and guided backpacking in the Sierra Nevada Mountains. In the winters, he competes in freeride skiing and backcountry skis. Dominic is a Wilderness First Responder, Avalanche (AIARE) Level 2, Behavioral First Responder, and Swiftwater Rescue Technician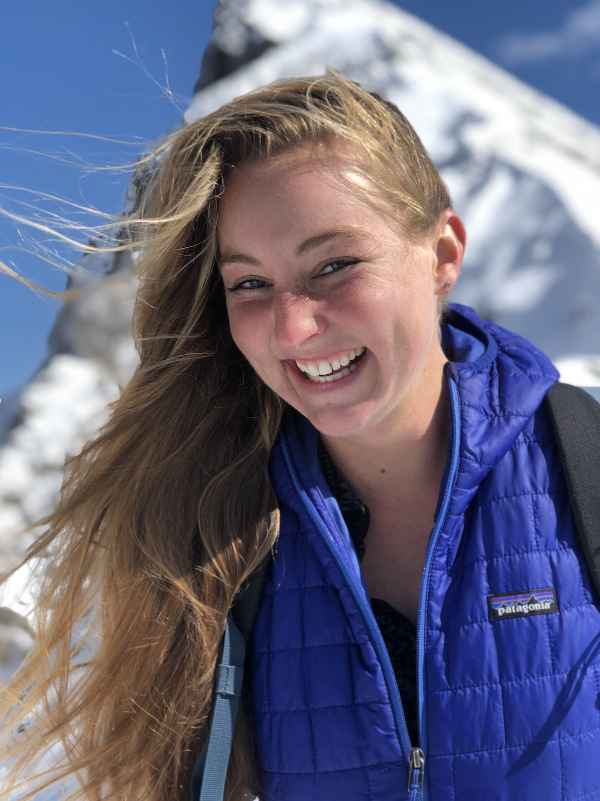 Amy Cyr
Amy has spent most of her life in the South— South Africa, southern Florida, southern California, and South East Asia that is. But her heart now lies much farther north. At first pursuing a degree in broadcast journalism, Amy's career plans changed when she found her passion for guiding in the outdoors. Whether it's climbing, mountain biking, kayaking, or caving, she finds the most joy in looking over at the people she's with and seeing wonder and excitement in their eyes. After guiding and teaching outdoor education all over the US, Asia, and New Zealand, Amy has found the one place she HAS to be in the summer: Alaska. She now lives on a sailboat in Seward with her partner Jamie and their dog Casey Jones. When she isn't guiding, Amy can usually be found climbing up a rock wall, paddling through whitewater, skiing down a mountain, or rappelling into a crevasse…all in a dinosaur onesie.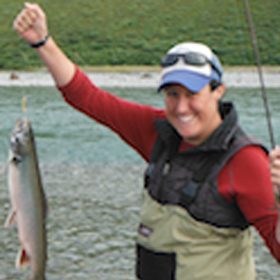 Joan Travers
Joan is our urban adventurer, hailing from the great city of Chicago. After trading in her urban ways and Da Bears for real bears, she has really found a home in the mountains and rivers of Alaska. Joan is forever working on her degree in Wilderness Education from DePaul University, and has used her education as an opportunity to travel and experience wilderness areas around the world. An avid water sports enthusiast, Joan enjoys sea kayaking, canoeing, surfing, and floating lazy rivers, as well as exploring beautiful remote terrains. Her cheery disposition, active imagination, and long winded stories make her a delight to be around. Joan joined the AAA staff in 2012 and is a certified Wilderness First Responder as well as Leave No Trace Master Educator.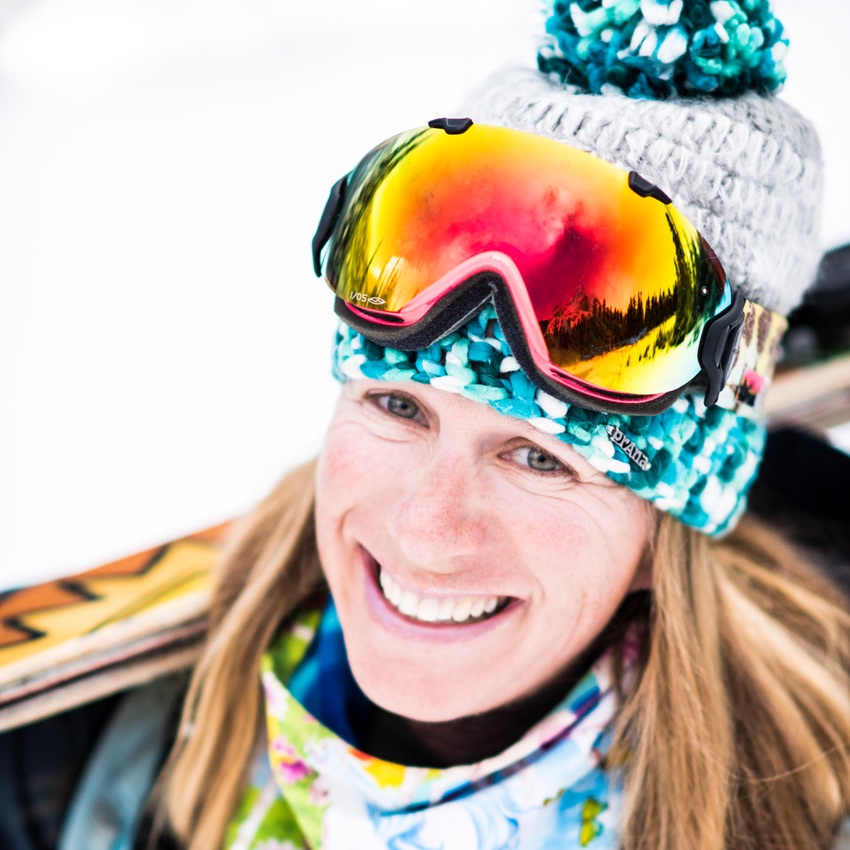 Brooke Edwards
Brooke hails from the Great Pacific Northwest where her passion for all things outdoors was born. Calling Alaska her home for the last 17 years, she can be found year round exploring the mountains and rivers of this vast wilderness. Brooke graduated with an M.S. in Environmental Education with a primary focus on Ecotourism from The Audubon Expedition Institute and has spent over 2 decades applying these principles to guiding. Brooke has her Coast Guard 6-Pack, her Avalanche Level 2, and her Wilderness First Responder.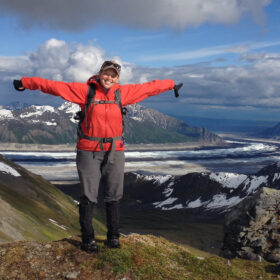 Brita Irving
Brita was born and raised in Fairbanks and has been exploring interior Alaska since childhood. Joining AAA in 2013, after working as a scuba dive guide in Thailand, gave her the opportunity to explore stretches of Alaskan wilderness inaccessible to most. She graduated with a BS in physics and math in 2010 and an MS in atmospheric science in 2012 from the University of Alaska Fairbanks. She now splits her time between exploring mountains and rivers and driving underwater autonomous vehicles around the Arctic and Antarctic seas. Brita has an unmatched passion for Alaska, wilderness conservation and preservation and loves to share these with her guests. Brita is a certified Wilderness First Responder, is River Rescue Certified and has her Avalanche Level 1.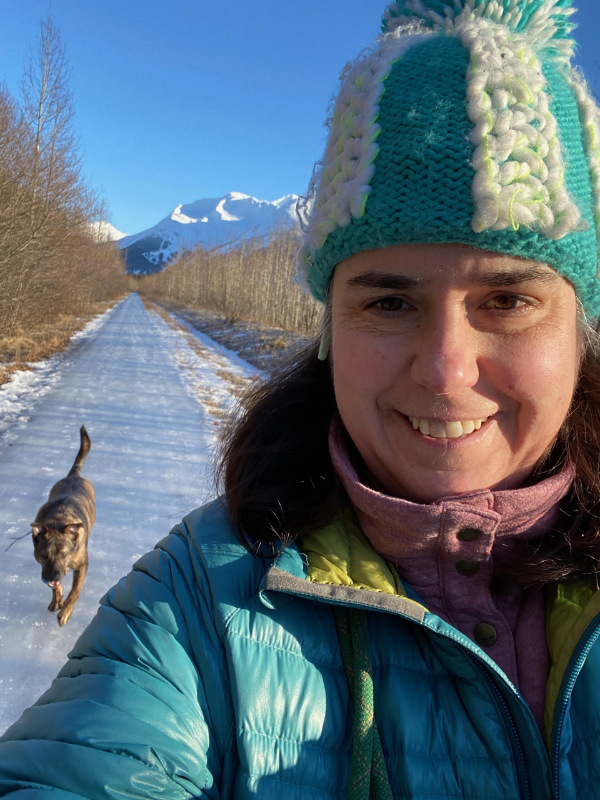 Sara Allen
Sara is the Alaska Alpine Adventures logistics wizard that keeps all of our trips running smooth. She makes sure your adventure is booked from arrival, to departure, and anything in between. Sara grew up in Minnesota and found her love of small towns in Ely, way up North on the boarder of The Boundary Waters Canoe Area near Canada don'cha know. She has now called Alaska home for 20 years and counting. Sara has worked in tourism since she moved to the small town of Girdwood in 2001. When Sara is not navigating "spreadsheet-land" you can find her hiking the local trails with her dog Bobber, foraging for berries in the forest, baking pies, riding her bike or simply swinging in her hammock reading a good book. Sara knows the wilderness drill well; her husband is our long-time guide Nico or as we know them together…"The Dynamic Duo of the AAA office".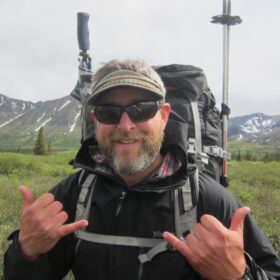 Nick Allen
Raised in The Adirondack Mountains of New York, Nick (a.k.a. Nico) followed his dreams north in 2006, seeking out Alaska's promise of big wilderness and big adventure…. ALASKA DELIVERED!! Nico is passionate about sharing the backcountry with guests and students alike. Outside of the busy Alaska guiding season, Nick draws on his B.A. in Outdoor Studies from Alaska Pacific University, to teach leadership and expeditionary skills courses to university students aspiring to become outdoor professionals. After spending years in the field, Nico has taken on more roles in the office, warehouse operations, and training side of the AAA world. As the current Program Manager, and in-house Gear Guru, he loves to talk shop! In his free time, you can find Nico out boating, fishing, or playing guitar in the beautiful town of Girdwood, where he lives with his wife Sara and their pooch Bobber. Nick is a certified Wilderness First Responder, Whitewater Rescue Technician, ACA Instructor, and Leave No Trace Trainer. You will never catch Nico in the wilderness without his favorite piece of equipment: his trusty umbrella.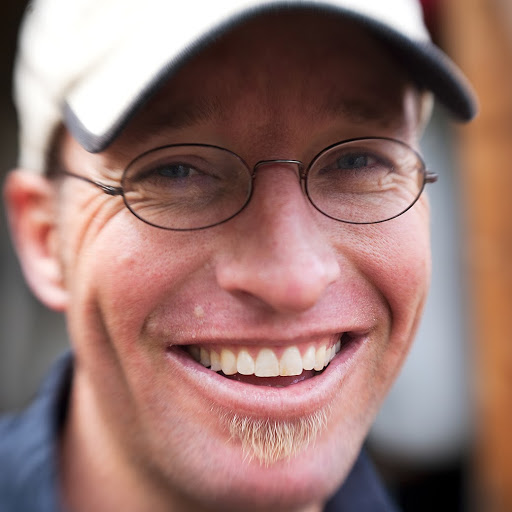 Dan Oberlatz
Dan has been exploring Alaska's vast wilderness since 1992. For over 25 years he has systematically explored remote and poorly understood regions of the Alaskan wilderness, on foot, skis, and by raft especially in the environs of Lake Clark National Park, where he lived year-round until 2005. With well over 20 exploratory expeditions into this little-known wilderness, and multiple expeditions across Alaska, Dan is possibly the greatest current authority on the backcountry of the northern Aleutian and southern Alaska ranges. To his credit, Dan has done more than just explore. He is vitally concerned with the sustainability of the wilderness and the viability of the rural communities in the region. Dan spent 6 years as Vice President of the Alaska Wilderness Recreation and Tourism Association. In 2008, Dan was awarded AWRTA's Ginny Hill Wood Award for his contributions to Alaska conservation and sustainable tourism. In 2013, Dan was elected to serve on the board of directors of the Alaska Travel Industry Association and in 2019 was elected as the Board Chair. He is committed to exploration, to the preserving of the wilderness for future generations, to the advancement of knowledge, and to the belief that responsible and appropriate tourism is a way to help impoverished communities, while preserving Alaska's wilderness heritage.
His expertise is sought after by various media, and he has been quoted or featured in Outside Magazine, Alaska Business Monthly magazine, US News & World Reports, the Associated Press, National Parks Magazine, Men's Journal, and others. His photographs have appeared in a number of national publications including Outside, Backpacker, Men's Journal, and National Geographic Adventure and Traveler. Dan is also a member of the Explorers Club, to which he was elected in 2009. But as much as anything, Dan loves the backcountry, and he finds his greatest joys while immersed in it. With humor and panache, he goes out in search, and each time he returns he brings greater knowledge and interest to the outside world. He splits time between homes in Anchorage and Lake Clark with his daughters Isabelle and Bryn.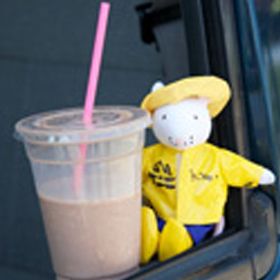 B-Dog
B-Dog joined the Alaska Alpine Adventures team in 2009 and has since ventured to the far reaches of the state. His most recent pursuits have taken him on backpacking adventures in Wrangell-St.Elias and Lake Clark National Parks, as well as kayaking on the remote Katmai Coast. When not adventuring in the Alaska wilderness, B-Dog winters alone in the company warehouse in South Anchorage. He looks forward to sharing the stories of his adventures with you, and possibly hitching a ride on you backpack or the bow of your kayak.