Our Alaska Guides
Our team is competent, skilled, trained, and experienced!
It takes a talented individual to be able to lead an Alaska expedition, and our Alaska guides are true outdoor multi-sport professionals. We hand-select each guide based on their ability to deliver an unparalleled level of customer service, a strong wilderness skill set and background, and an insatiable passion for Alaska's wild spaces. Each lead guide is medically certified as a Wilderness First Responder and carries the necessary qualifications to competently backpack, hike, kayak, canoe, and climb throughout Alaska's vast wilderness. When you choose to travel with us, you can rest assured that your trip has been meticulously planned and executed by real Alaskans with authentic Alaska know-how, skill, and ability.

Matt Dighton
Matt was born and raised in Alaska, where he spent his childhood hunting, fishing, camping, hiking, and canoeing in the vast and remote wilderness of the Interior. Matt joined the AAA team in 2015 after graduating from the University of Alaska Anchorage with a bachelor's degree in Health, Physical Education, and Recreation, with an emphasis on Outdoor Leadership and Administration. When not sharing the backcountry of his beautiful home state with our guests, you can find him backpacking, biking, climbing, and snowboarding in the mountains around Anchorage. Matt is a certified Wilderness First Responder and Whitewater Rescue Technician.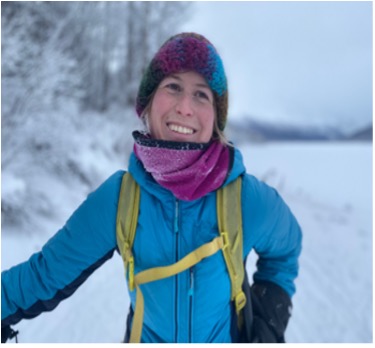 Rebecca Kemner
Rebecca grew up in Idaho where being in the outdoors was important early on in her life. Her passion for the outdoors led her to pair summer guiding with winter work at ski resorts. In 2018 she moved to Alaska in search of more adventures. In her free time, you can find her exploring Alaska on foot, skis, or paddle. She graduated from Alaska Pacific University with a B.A. in Outdoor Studies with a snow science concentration. She has Wilderness First Responder, Swiftwater Rescue, and Avalanche Level 2 certifications.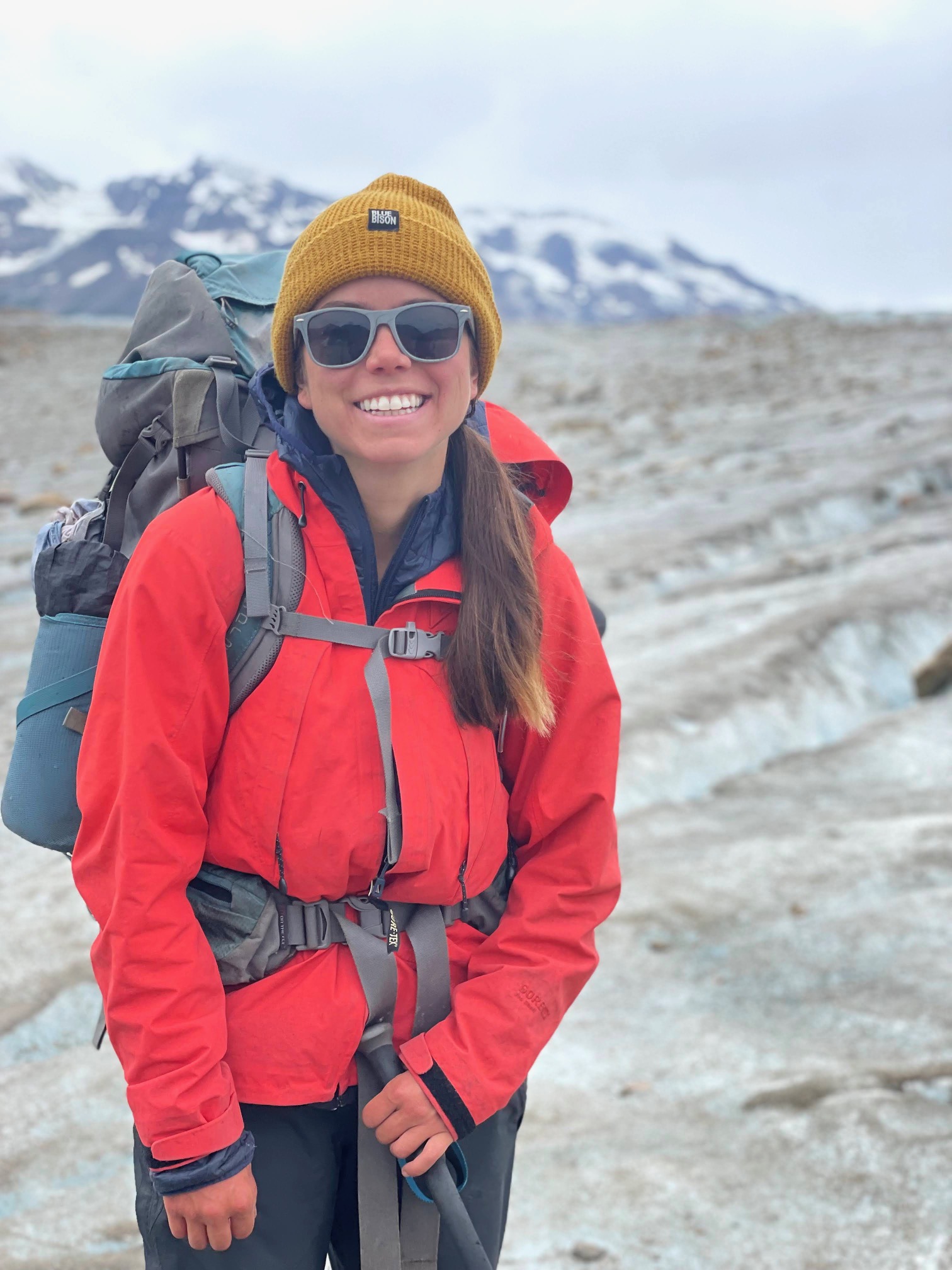 Shannon Miller
Shannon grew up in upstate NY and her love for the outdoors began while exploring the Adirondack Mountains as a kid. She first came to Alaska in 2019 for a backpacking trip and was instantly hooked. When she's not guiding with AAA, you can find her romping around Alaska's backcountry on skis, bikes, or foot. She's excited to share all this beautiful state has to offer with you. Shannon is an EMT, Wilderness First Responder, Avalanche level 2, and Swiftwater Rescue Technician.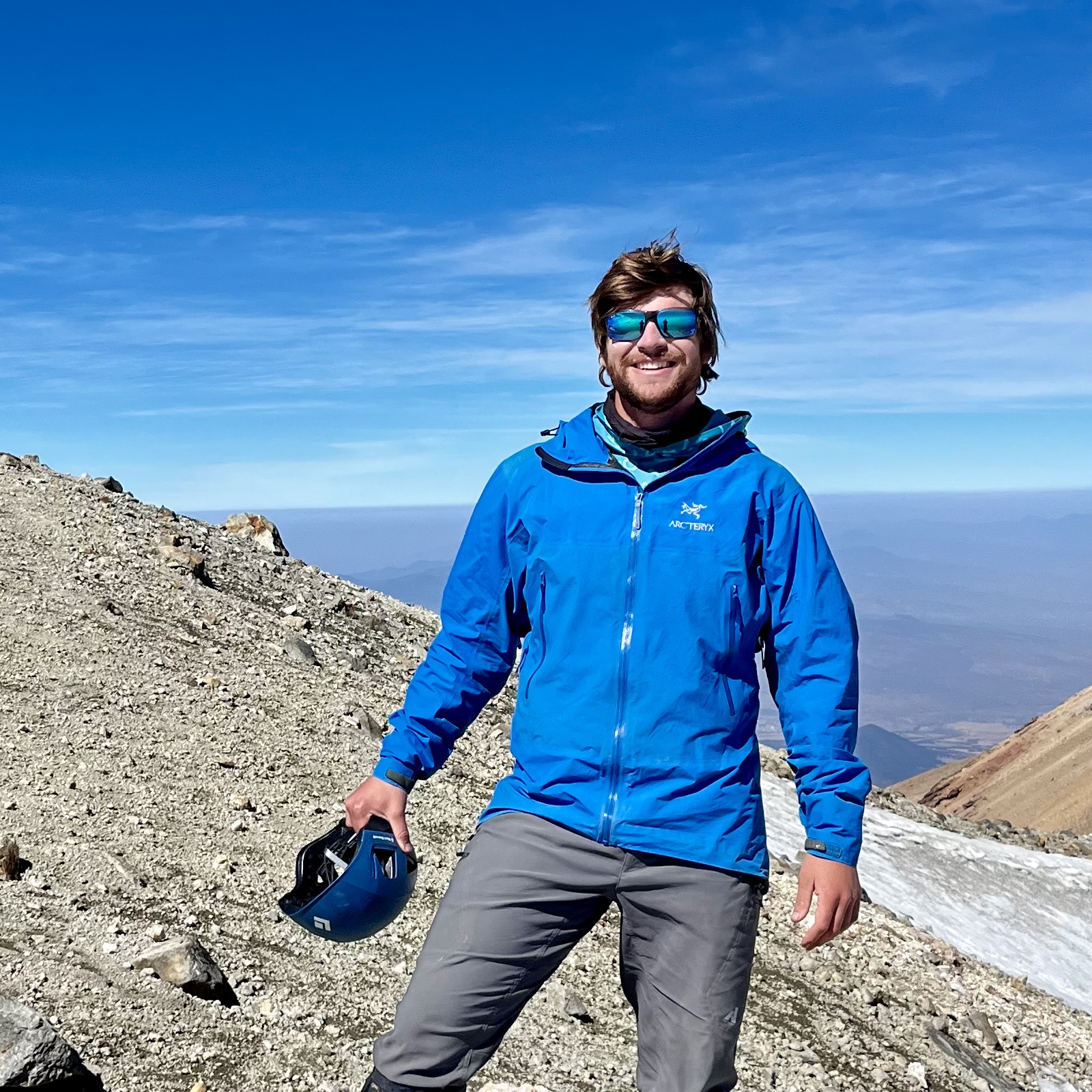 George Bull
George is a passionate outdoor leader and first-year Guide at Alaska Alpine Adventures. Prior, he spent three seasons in Northwest Wyoming leading backpacking trips throughout the Greater Yellowstone Ecosystem. He has also served as a logistics specialist for the National Science Foundation's US Antarctic Program at McMurdo Station. George is a certified Wilderness First Responder and Leave No Trace Master Educator and has completed multiple National Outdoor Leadership School courses, including a semester in Patagonia mountaineering and sea kayaking.  As a graduate of the University of Vermont with a degree in Economics, his love for the outdoors was sparked during family road trips exploring the American and Canadian Rockies. In his free time, he enjoys mountaineering, climbing, skiing, and flying light airplanes. This summer, George is thrilled to explore the untamed wilderness of Alaska and create unforgettable experiences for our guests.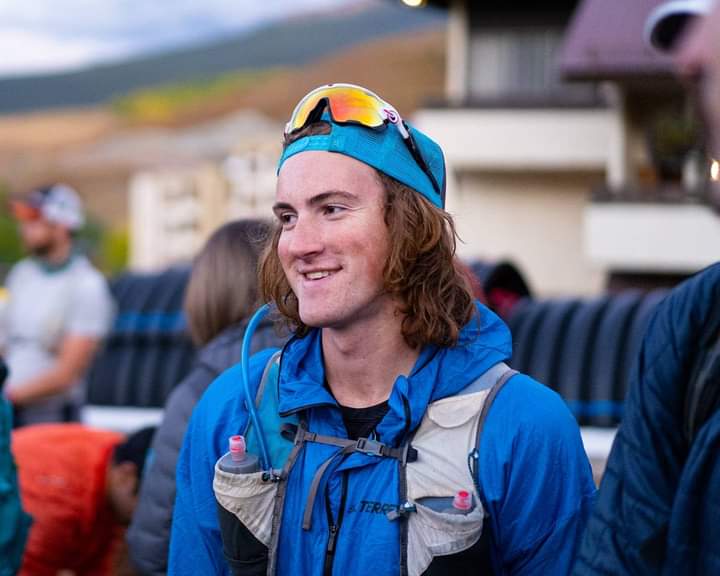 Josh Jones
Josh grew up in northern Minnesota, where he spent most of his time running, nordic skiing, and canoeing. He moved to Gunnison, Colorado to study Environment & Sustainability with a Minor in Recreation & Outdoor Education. In Gunnison, he grew to love backcountry skiing, rafting, and mountaineering. This is Josh's first year guiding for AAA. Josh is a certified Wilderness First Responder and has an AIARE Level 2 Certification.
Lily Montgomery
Lily discovered her passion for the outdoors by canoeing the north country waterways of Ontario and Quebec. When COVID closed the Canadian border, she found herself in Alaska. Lily spent two summers exploring Wrangell St. Elias National Park and was hooked on the dramatic and dynamic landscapes of the 49th state. Lily spends most of her free time on the water during the summer. You will find her skiing the Wasatch Mountains of Utah during winter. What Lily loves most about working outside is sharing the places she loves with others and seeing the absolute joy that comes from discovering new places and returning to old favorites. Lily has a B.A. in Anthropology and Spanish, with a minor in Education; she is a Wilderness First Responder, and Swiftwater Rescue Technician, and has her Avalanche Level 1.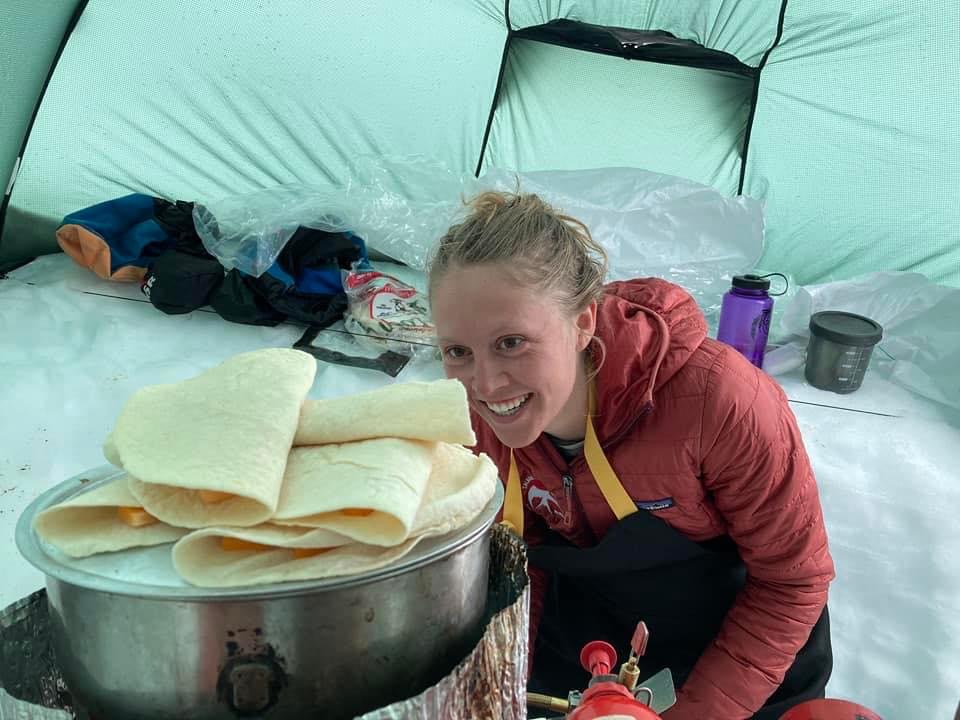 Ayla Loper
Ayla was born and raised in Talkeetna, Alaska. She enjoys time with family, friends, and clients in the outdoors, and the unique mental and physical environments it brings about. She finds the outdoors cultivates a special kind of patience, confidence, connection, and presence. While gaining her B.A. in Anthropology from Colorado College and her Physical Therapy degree, she worked at a local air taxi for ten years and then transitioned to guiding mountaineering trips in the Alaska Range. She now works as an Orthopedic Physical Therapist in Anchorage, AK in the winter and as a guide in the summer. Her outdoor certifications include Wilderness First Responder, Avalanche Level 1, and Swiftwater Rescue.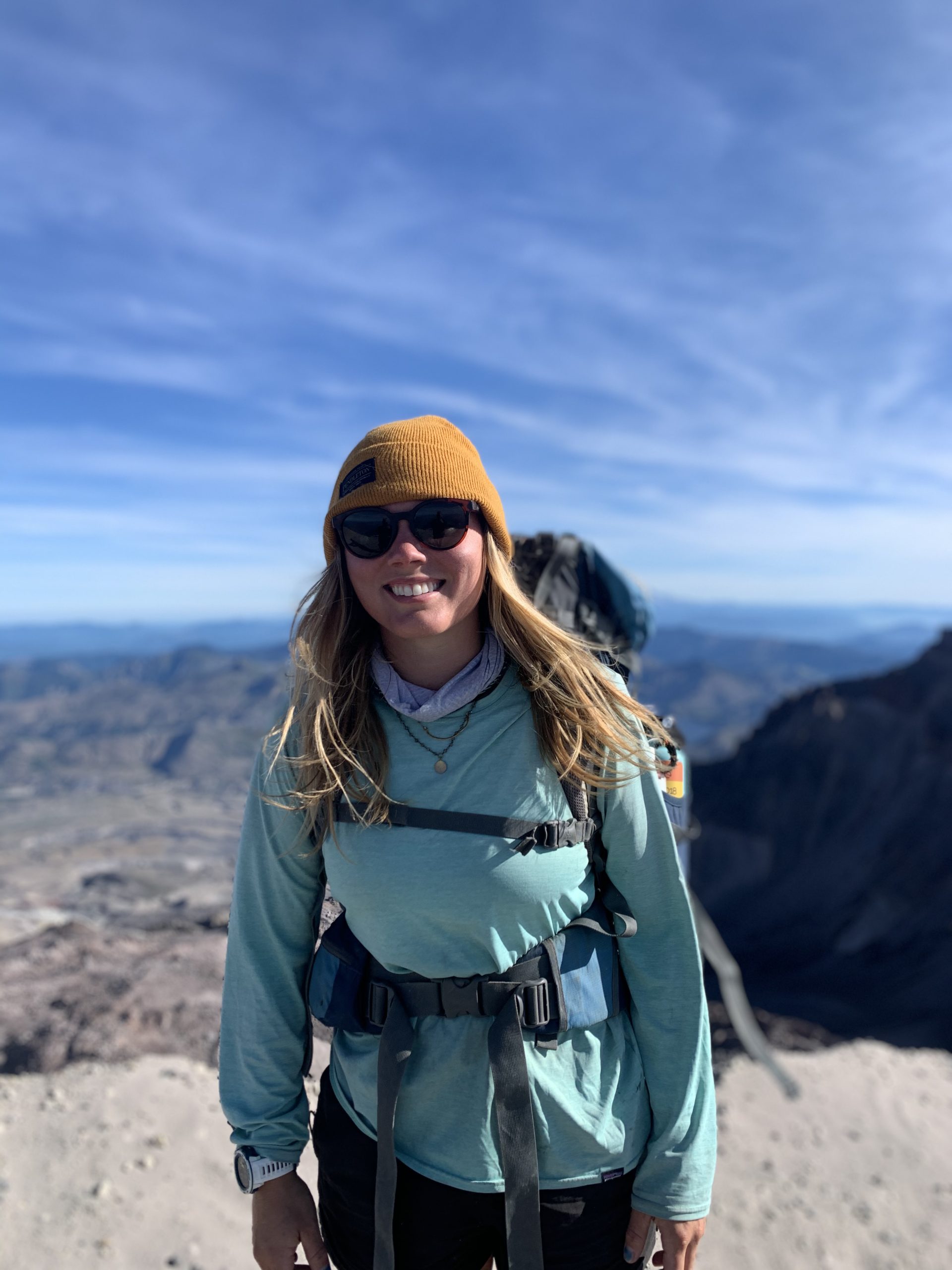 Liz Hertz
Liz grew up on the coast in Connecticut, spending most of her time on Long Island Sound, where her appreciation for outdoor adventures began. Since graduating from Sewanee: The University of the South, she worked as a naturalist and outdoor educator in Charleston, SC where she guided sea kayaking and hiking trips throughout the Lowcountry. She decided to trade in her kayak for a backpack and lead multi-day backpacking trips in the Pacific Northwest, Idaho, California, and North Carolina with students. During the Spring and Fall, you can find Liz in and around the canyons of the Southwest. Liz believes in the power that outdoor experiences can provide in facilitating a positive connection with people and wild places. Liz is a Wilderness First Responder, Leave No Trace Master Educator, ACA Sea Kayak, and Swift Water Rescue certified. This will be Liz's first season at AAA and she is excited to see what epic adventure is next and what amazing people she will meet along the way.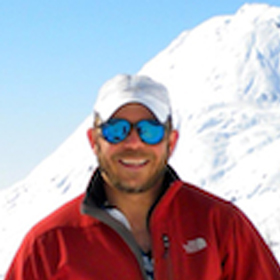 Matt Beckage
This long-time Alaskan lives year-round in the Mastanuska-Susitna Valley. Matt has extensive backcountry experience and when he's not in town you'll most likely find him in the broad expanses of the Chugach or Talkeetna mountains. He juggles his time between family, climbing, skiing, cooking, teaching, and exploring the many wonders of the Last Frontier. Matt's passion is "immersing explorers in the moment and sharing the majesty of this Great Land!" His enthusiasm, quick wit and humorous tales are sure to keep you smiling on your adventures. Matt is retired military and holds degrees from the University of Scranton, Embry-Riddle Aeronautical University and the University of Alaska Anchorage. Matt is a Wilderness First Responder and holds an AIARE Avalanche Level 2. He's also a Wounded Warrior Project Alumni and a Certified Peer Mentor.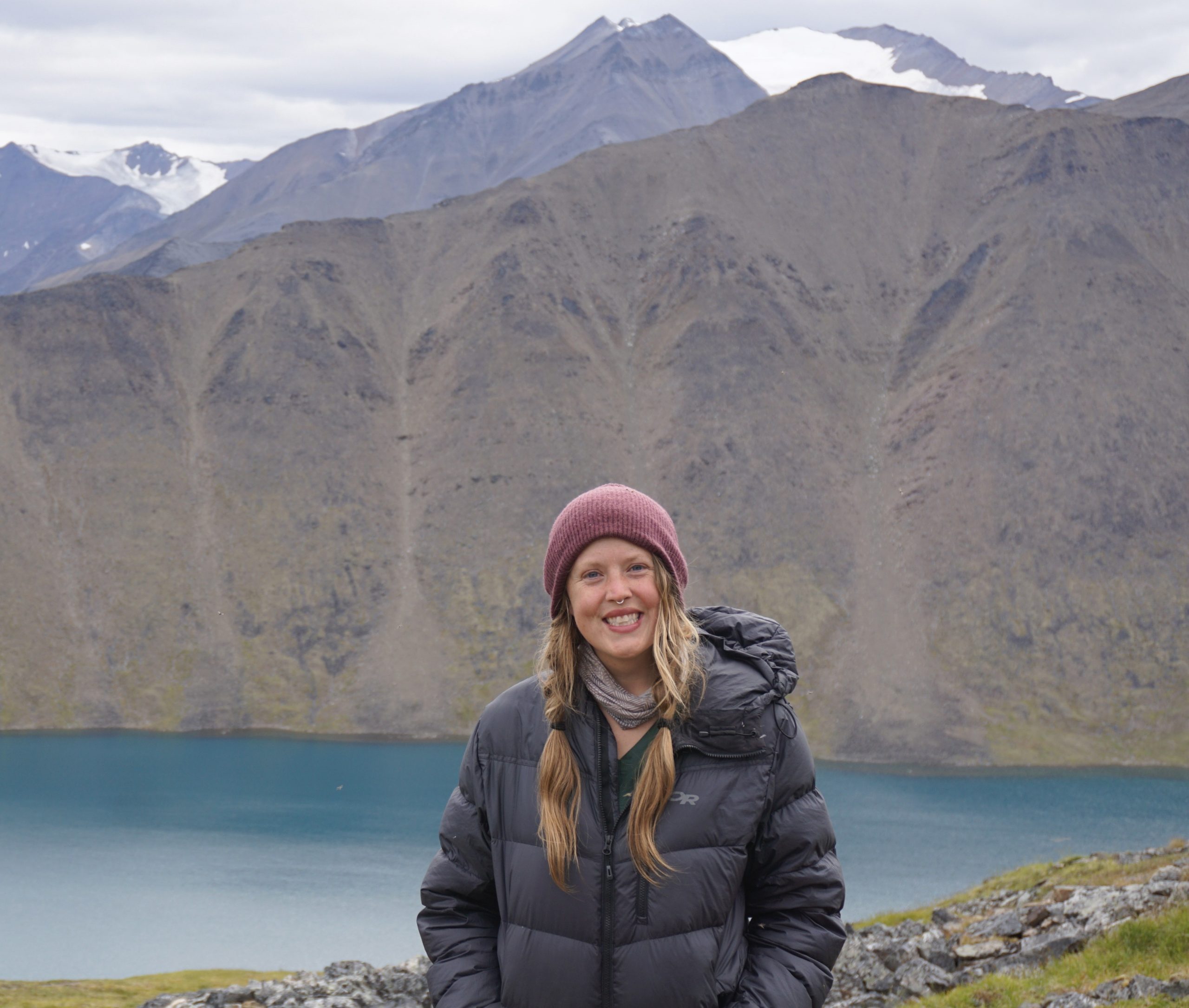 Colleen Lomenick
Colleen was born and raised in Minnesota. Her passion for the outdoors was fostered by summers spent at her lake cabin venturing through forests, lakes, and rivers. She graduated with a BA in Psychology and Sociology of Law and Crime from the University of Minnesota and is driven by the connections humans create with each other and the world around them. After spending time meandering through Asia, she settled in Bend, OR to guide at a wilderness therapy company. Colleen's love for Alaska was ignited while leading a 45-day backpacking trip through Arctic Refuge in 2021. She has been pulled back to the Alaskan wilderness and the sense of awe, connection, and inspiration that has been sparked by this land. She is looking forward to sharing these beautiful, challenging experiences and morning coffee musings with guests. In her free time, she enjoys trying out new creative hobbies, cooking, a good book, dipping into every body of water she sees, and exploring with her partner and pup. Colleen is a certified Wilderness First Responder.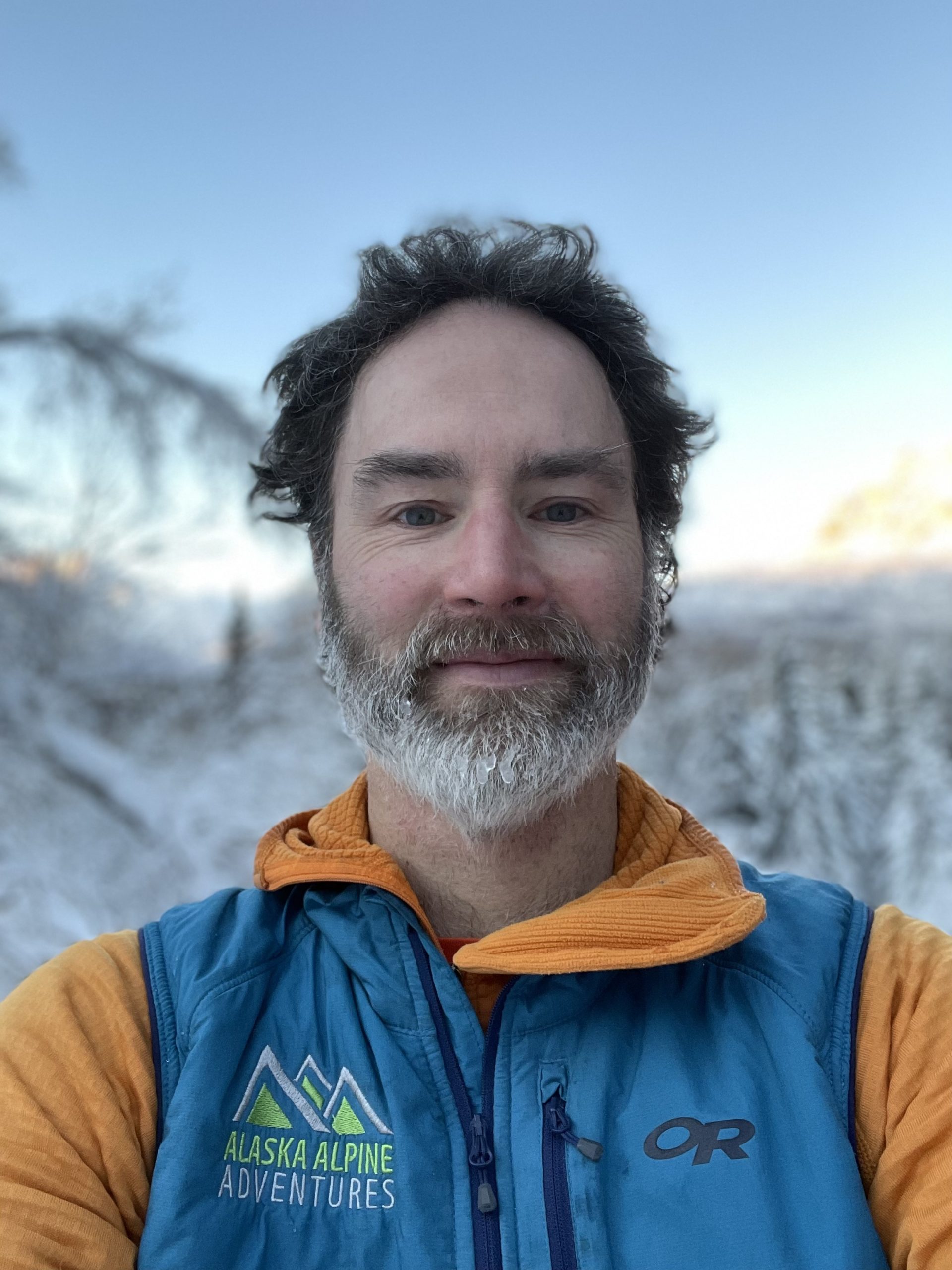 Aaron Fetter
Aaron has been guiding for Alaska Alpine Adventures since 2003 and his passion for the wilderness grows with every adventure. He came to Alaska in 2001 to complete a bachelor's degree in outdoor studies at Alaska Pacific University to pursue a lifelong dream of guiding in Alaska. Most recently, Aaron co-founded Adventure Appetites – offering Alaska Alpine Adventures' gourmet food to adventurers everywhere. Through the years, Aaron has divided his time managing operations, packing food, and exploring Alaska's wild places. Whether traversing remote mountain ranges, climbing high on an Alaska peak, or pack rafting a wild & scenic river, Aaron says, "I find inner peace while immersed in Alaska's most remote backcountry." Aaron is a Wilderness First Responder and certified Whitewater Rescue Technician. He lives in Anchorage with his wife Adele and daughters Emily & Samantha.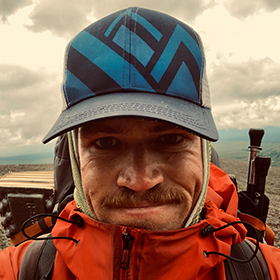 Sean Johnson
Sean was born and raised in Pennsylvania. He came to Alaska in 2014 to attend school at Alaska Pacific University, pursuing a degree in Outdoor Studies and quickly realized Alaska was home for him. He began guiding for AAA in 2015 and fell even more in love with his new home state. In his free time, you can find him backpacking, skiing, packrafting, climbing or flyfishing. Sean's passion for the outdoors and exploring has taken him all around the globe, but nothing quite lives up to his home here in AK. His love of nature, wildlife and the lands that we adventure on is contagious. Always a fan of a good laugh, and cold beer with friends. Sean has a B.A in Outdoor Studies with a concentration in Snow Science, he is a Wilderness First Responder, Avalanche Level 2 and Swiftwater Rescue certified.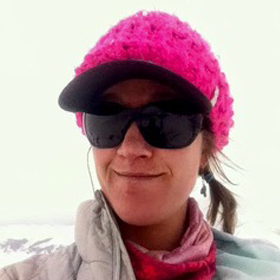 Sara Olbright
Sara was born and raised in Colorado. Mountains have always been a huge part of her life. Looking for bigger and more remote mountains, Sara ventured to Alaska to explore the large glaciated peaks. She quickly became addicted to the state's remoteness and challenging terrain. The last ten years Sara has been living her dream working as a mountaineering guide. In the winter Sara returns to Colorado and works as a ski patroller specializing in snow safety. She attended Western State Colorado University and received a B.A. in Outdoor Leadership and Resort Management. She continued her professional medical training by receiving her Wilderness EMT. Sara has also completed an Avalanche Level 3 and is a Leave No Trace Master Educator. When not guiding, Sara can be found skiing and climbing around Alaska.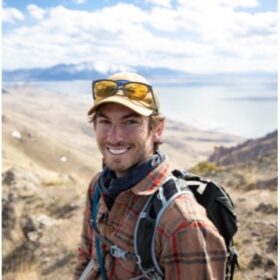 Michael Kleinman
Michael first began challenging himself in Alaska's wilderness back in the Summer of 2018. He grew up in the diverse metropolitan city of Miami, but a decade ago Michael left to pursue a career in the outdoors. Michael has lived and worked in multiple U.S. National Parks and his wilderness expeditions have taken him as far as the Southern Alps of New Zealand and southern Chile. Michael is a Wilderness First Responder and earned a professional level one avalanche certification. Depending on the season you may find Michael traversing a ridge high in the San Juan Mountains of Colorado looking for the best backcountry pow to ski, bikepacking in South America or cackling with our guests here in Alaska's vast wilderness over a stout cup of joe.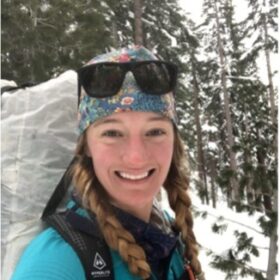 Chelsey Cook
Chelsey was born and raised in the woods of New Hampshire. She spent her formative years skiing, hiking, and sleeping outside. When the Army stationed her in Fairbanks, Alaska in 2015, she promptly fell in love with the state and spent every available moment exploring its far corners by foot, skis, and packraft. Chelsey currently spends spring and summer guiding and playing in Alaska, and for the rest of the year, she can be found anywhere from the Cascades of Washington to the deserts of Utah, mountain biking, climbing, and canyoneering. She is also working towards dual masters' degrees in the U.K., works in environmental advocacy, and reads more than is healthy. Chelsey is a certified Wilderness EMT, a Leave No Trace Master Educator, and has completed her AAA Avalanche Pro 1.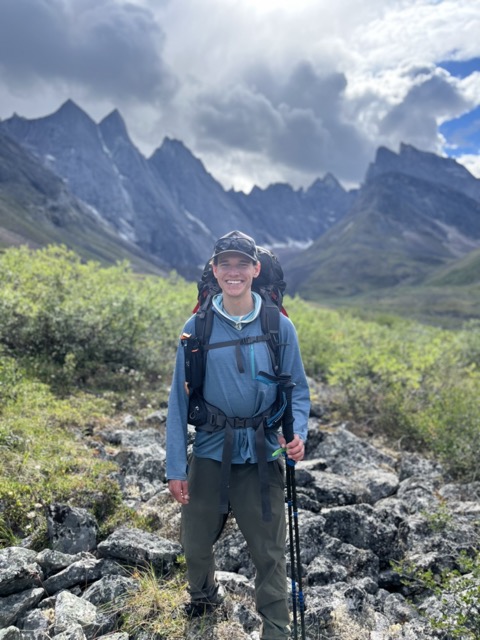 Dominic Gawel
Dom's passion for sharing the mountains with others stems from his upbringing in Long Beach, California where he frequented the local mountains to ski or hike. He started developing his outdoor leadership skills in Boy Scouts where he earned the rank of Eagle Scout. To continue his journey toward a career in the Outdoor Industry, Dom attended Western Colorado University where he obtained a B.A. in Outdoor Leadership and a B.A. in Environment and Sustainability. He has been a member of the Western Mountain Rescue Team for 6 years and has run Search and Rescue missions around the state of Colorado. In the winter, Dom coaches freeskiing in Crested Butte, Colorado for the Crested Butte Mountain Sports Team and writes for SnowBrains.com. Dom is an Instructor for the American Institute for Avalanche Research and Education (AIARE), an AMGA Apprentice Alpine Guide, Rope Rescue Technician, Wilderness First Responder, Swiftwater Rescue Technician, and a Behavioral First Responder. He is most excited to show you what experiencing true wilderness means – something you need to come to Alaska for!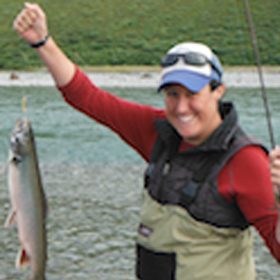 Joan Travers
Joan is our urban adventurer, hailing from the great city of Chicago. After trading in her urban ways and Da Bears for real bears, she has found a home in the mountains and rivers of Alaska. Joan is forever working on her degree in Wilderness Education from DePaul University and has used her education as an opportunity to travel and experience wilderness areas around the world. An avid water sports enthusiast, Joan enjoys sea kayaking, canoeing, surfing, and floating lazy rivers, as well as exploring beautiful remote terrains. Her cheery disposition, active imagination, and long-winded stories make her a delight to be around. Joan joined the AAA staff in 2012 and is a certified Wilderness First Responder as well as Leave No Trace Master Educator.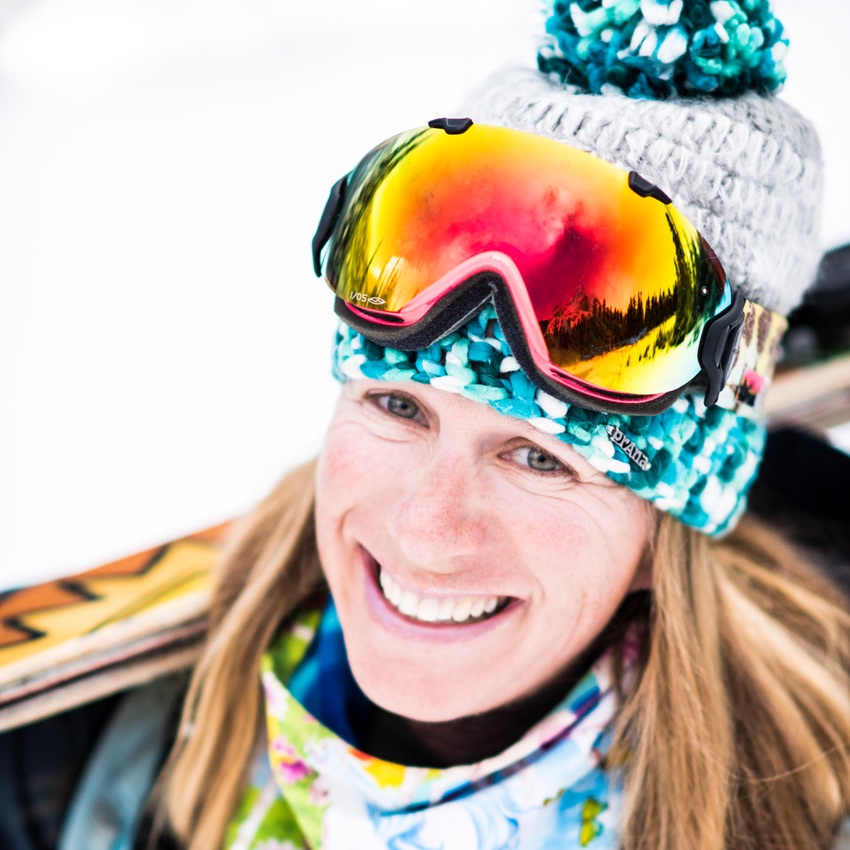 Brooke Edwards
Brooke hails from the Great Pacific Northwest where her passion for all things outdoors was born. Calling Alaska her home for the last 17 years, she can be found year round exploring the mountains and rivers of this vast wilderness. Brooke graduated with an M.S. in Environmental Education with a primary focus on Ecotourism from The Audubon Expedition Institute and has spent over 2 decades applying these principles to guiding. Brooke has her Coast Guard 6-Pack, her Avalanche Level 2, and her Wilderness First Responder.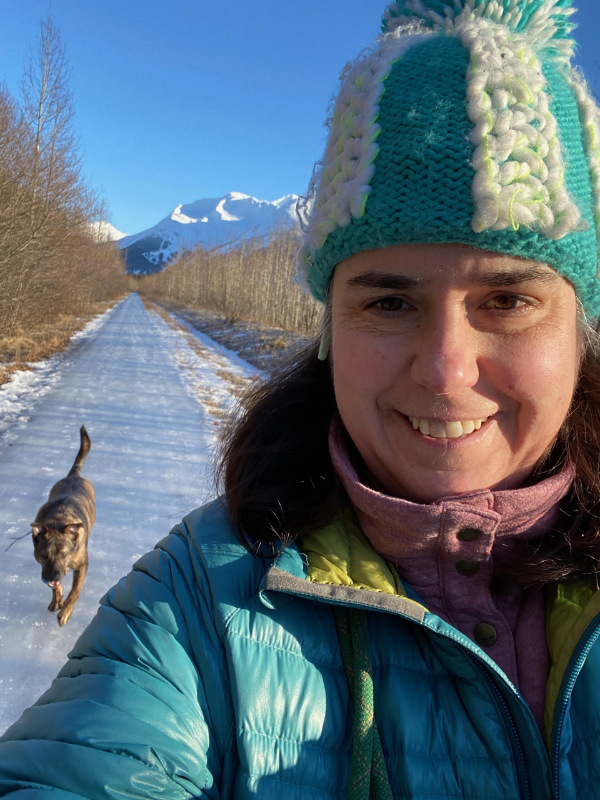 Sara Allen
Sara is the Alaska Alpine Adventures logistics wizard that keeps all of our trips running smoothly. She makes sure your adventure is booked from arrival to departure, and anything in between. Sara grew up in Minnesota and found her love of small towns in Ely, way up North in the Boundary Waters Canoe Area, near Canada, doncha know? She has now called Alaska home for 20 years and counting. Sara has worked in tourism since she moved to the small town of Girdwood in 2001. When Sara is not navigating "spreadsheet-land" you can find her hiking the local trails with her dog Bobber, foraging for berries in the forest, baking pies, riding her bike, or simply swinging in her hammock reading a good book. Sara knows the wilderness drill well; her husband is our long-time guide Nico, or as we know them together…"The Dynamic Duo of the AAA office".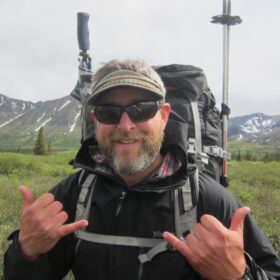 Nick Allen
Raised in The Adirondack Mountains of New York, Nick (a.k.a. Nico) followed his dreams north in 2006. Nico is passionate about sharing the backcountry with guests and students alike. Outside of the busy Alaska guiding season, Nico draws on his B.A. in Outdoor Studies from Alaska Pacific University, to teach leadership and expeditionary skills courses to university students aspiring to become outdoor professionals. Starting as a guide with AAA in 2011, Nico has since taken on more roles in the office, warehouse operations, and training side of the AAA world. As the current Program Manager and in-house Gear Guru, he loves to talk shop! In his free time, you can find Nico out boating, fishing, playing guitar, or grillin' up something special. Anchorage is home to Nick, his wife Sara, and their rowdy pooch Bobber. Nick is a certified Wilderness First Responder, Whitewater Rescue Technician, ACA Instructor, and Leave No Trace Trainer. Fun Fact- you will never catch Nico in the wilderness without his favorite piece of equipment: his trusty umbrella!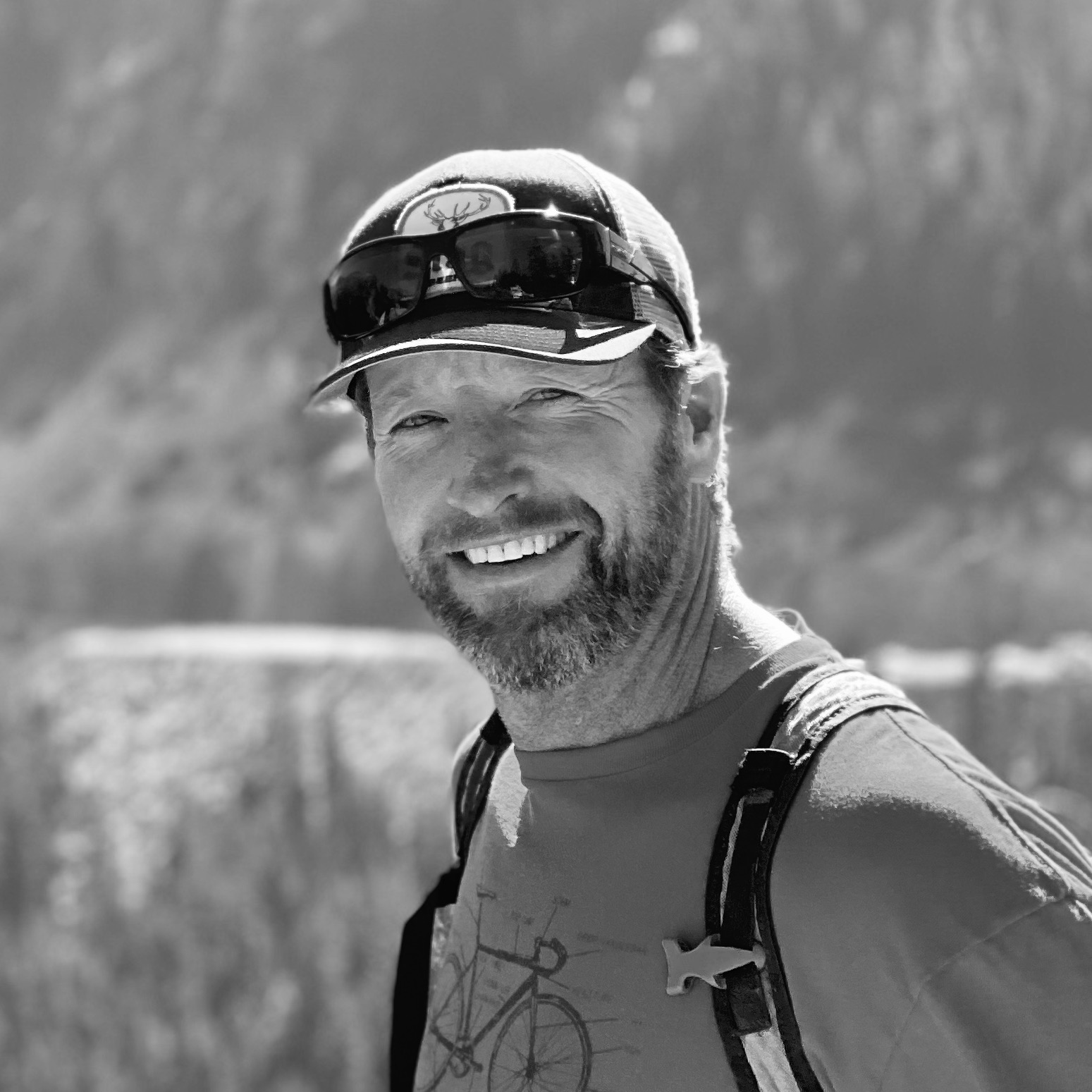 Dan Oberlatz
Dan has been exploring Alaska's vast wilderness since 1992. For over 30 years he has systematically explored remote and poorly understood regions of the Alaskan wilderness, on foot, skis, and by raft especially in the environs of Lake Clark National Park, where he lived year-round until 2005.  With well over 20 exploratory expeditions into this little-known wilderness, and multiple expeditions across Alaska, Dan is possibly the greatest current authority on the backcountry of the northern Aleutian and southern Alaska ranges.  To his credit, Dan has done more than just explore. He is vitally concerned with the sustainability of the wilderness and the viability of the rural communities in the region.  Dan spent 6 years as Vice President of the Alaska Wilderness Recreation and Tourism Association. In 2008, Dan was awarded AWRTA's Ginny Hill Wood Award for his contributions to Alaska conservation and sustainable tourism.  In 2013, Dan was elected to serve on the board of directors of the Alaska Travel Industry Association and in 2019 was elected as the Board Chair.  He is committed to exploration, to the preserving of the wilderness for future generations, to the advancement of knowledge, and to the belief that responsible and appropriate tourism is a way to help disadvantaged communities, while preserving Alaska's wilderness & cultural heritage.
His expertise is sought after by various media, and he has been quoted or featured in Outside Magazine, Alaska Business Monthly magazine, US News & World Reports, the Associated Press, National Parks Magazine, Men's Journal, and others.  His photographs have appeared in a number of national publications including Outside, Backpacker, Men's Journal, and National Geographic Adventure and Traveler.  Dan is also a member of the Explorers Club, to which he was elected in 2009.  But as much as anything, Dan loves the backcountry, and he finds his greatest joys while immersed in it.  With humor and panache, he goes out in search, and each time he returns he brings greater knowledge and interest to the outside world.  He splits time between homes in Anchorage and Lake Clark with his daughters Isabelle and Bryn.