Delicious Backcountry Cuisine
We've redefined the art of cooking in the great outdoors with our award winning menu.
The Food Experience
For over two decades, we've been leading expeditions into some of the most remote wilderness areas in Alaska.  While we like to think that after this many years, the perils of "trial and error" when it comes to food & menu planning are behind us, we know better.  The quest to create the perfect backcountry menu will forever be a part of our business – driven largely by you, our guests.  We continue to fine tune our food and develop menus for our trips that are appropriately light weight, nutritious, balanced, durable, stable, and tasty.  Food, after all, may be the most important part of our job as outfitters & guides.
Take a moment to imagine…over the course of a summer we prepare close to 8000 meals for our guests – the equivalent of a small restaurant in a similar timeframe!  But to complicate things, our 'restaurant' is typically 150 miles or more from the nearest paved road!  This underscores the imperative for proper planning as well as the need for fixed trip menus.
We've always believed that best part of providing a unique experience to every guest is to deliver amazing food. Rather the usual camp fare and off-the-shelf backpacking food, we've created some of the most original recipes you'll ever eat around the campfire. The healthy, flavorful, filling, and nutritious meals we serve always surprises our guests. After a day in the backcountry, sit back in your camp chair and enjoy steaming Panang Curry followed by a homemade Coffee Toffee Brownie.
Start the morning with a Reindeer Scramble or a mug of steel cut oats. And we ALWAYS have plenty of coffee, tea, and hot cocoa. Wherever you go and whatever you do, we're committed to fueling you up for your Alaska Alpine Adventure in the tastiest way possible.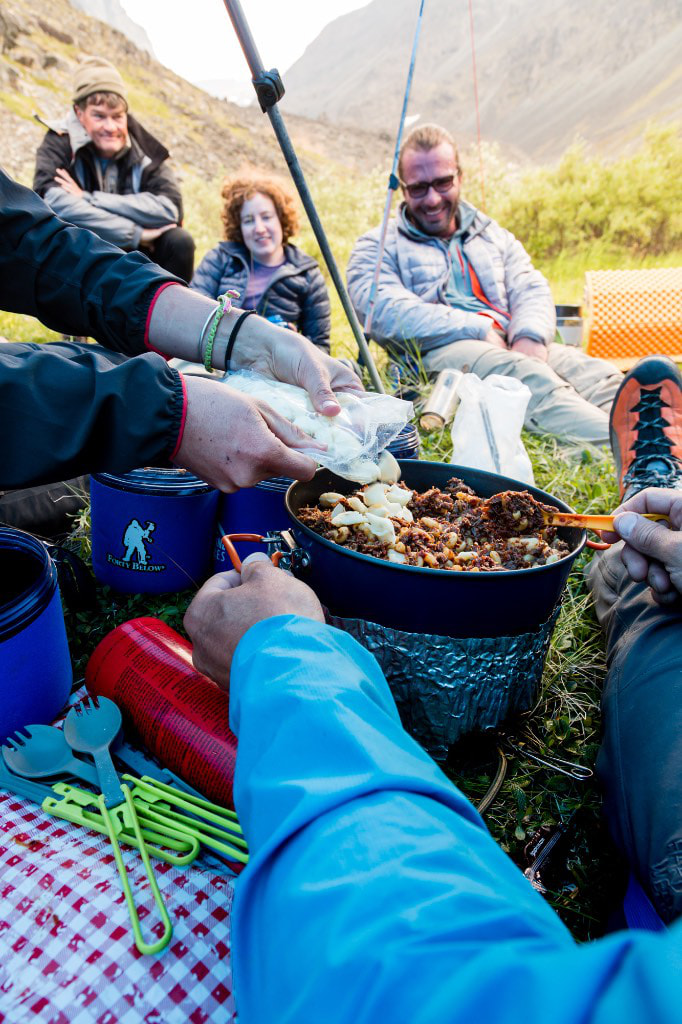 Backpacking Trips
In order to keep our food as light and compact as possible on our backpacking-specific itineraries, we don't pack full lunches.  Instead, we take frequent breaks and snack throughout the day.  Our "snack pack lunches" include a combination of energy bars, chocolate, meat, and cheese, that total just over 1000 calories.
What About Food At The Lodges?
Most of the trips we operate include at least one night in a hotel or lodge, with either included dining facilities or nearby restaurants.  In most cases, and with advanced notice, these properties will be able to accommodate dietary restrictions.  Again, in all cases, it's important to let us know of your dietary restrictions ahead of time, so that we can give our vendors advance notice.
Restrictions & Allergies
Each season, guests occasionally ask why we don't have more "flexibility" in our menu choices and some suggest improvements.  Over time, we have tweaked our fixed-menus based on evident suggestion patterns, but despite our best intentions it's nearly impossible to please everyone.  If you've actually read this far, you may A) have some sort of dietary restriction, or B) be intellectually curious as to how we do food.  In either case, you can rest assured the we'll do our level best to make certain that your dietary needs are met.
Beyond our standard menu, we can provide options for vegetarian, vegan, and many allergy-restricted diets but we cannot always provide the same diversity or sophistication of our regular menu for restricted diets.  Please call us with any questions or concerns.
Vegetarian:
No problem! It's easy for us to prepare your meals in the backcountry. You will enjoy the same food as everyone else, only with a tasty meat substitute.
Vegans:
Given the complexity of cooking meals for other group members, we will provide you with a selection of vegan breakfast & dinners from our preferred vendor Good To-Go.  Hot water will be made available whenever needed for meals.  For lunches, we ask that you bring about 1500-2000 calories of your favorite vegan snacks & bars.
Gluten-Free:
Guests are assumed to have a food allergy, which we take very seriously.  Accordingly, we carefully handle our gluten free menu using the following schedule:
Breakfast:
There will be a couple of meals that you will be able to eat with the group.  The rest will be individually bagged servings of a GF granola that can be enjoyed hot or cold.
Lunch:
We ask that you bring about 1200-1800 calories of your favorite GF snacks & bars.  We suggest that your snacks include a combination of energy bars, chocolate, meat, and cheese.
Dinner:
We will provide you with a selection of Good To-Go dehydrated GF backpacking meals.