Limited-Time Offer on Two Backpacking Trips
Book 2024
Early
and Save $200!*
You may have heard us say this before, but backpacking is one of the most authentic ways to see the unexplored terrain in Alaska. Experiencing the last frontier with boots on the ground is unimaginable until you've done it, and why backpacking is one of our most popular activities. 
Glaciers, tundras, lakes, and streams take on a whole new perspective as you trek through the wonders of Alaska. To get you started on the adventure of a lifetime, we're offering special savings.
Book a 2024 backpacking trip to either Katmai or Oolah Valley (only), and you'll save $200! Use code AAANEW23 at checkout by December 31, 2023. So get your trip planning started before it's too late.
Immersing yourself within Alaska's wild landscape is the only way you'll fully understand how truly incredible it really is.


Katmai: 7 Days
Katmai National Park & Preserve is a 4-million-acre wonder with 15 volcanoes, many of which are still steaming. It's one of the earth's largest sources of wild salmon fisheries and has a large brown bear population.
Don't miss our 7-day, level 2 trek through remote and wild tundra as well as the lake country of Katmai's northeastern preserve. After arriving via float plane, you'll hike through the open tundra, see stunning lakes, camp along clear streams, and experience wildlife like never before. Join us for the solitude and splendor of Alaska's Katmai country—and save $200 when you book your 2024 trip by December 31, 2023.*

Oolah Valley: 10 Days
If you're looking for a challenge, solitude, big mountain scenery, and fantastic hiking, then the Oolah Valley High Route in Gates of the Arctic National park is the trip for you. This level 3 backpacking adventure delivers an abundance of alpine tundra, two steep high passes, cobalt lakes, clear creeks, and the heart of Alaska's fauna.
This 10-day adventure begins in Fairbanks, Alaska, where you'll fly bush-style into Bettles and then onward to Summit Lake via float plane. From there, it's backpacking heaven as you trek through the true wilderness of Alaska. Be sure to book your 2024 trip no later than December 31, 2023, and you'll save $200.*
Do You Know Your Intensity Level?
How to Select the Right Trip for
You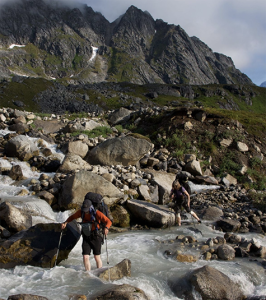 Backpacking isn't for everyone (yes, we just said that). Carrying gear on your back and hiking tough terrain in Alaska can be a beast. Are you (really) ready for a backpacking trip?
It may surprise you that many who think they can do it are faced with the harsh reality that backpacking isn't for the faint of heart, nor is it the best segway into your first Alaska adventure if it's beyond your capability. That's why it's important to study our intensity levels and choose a trip that's right for you!
What type of Alaska traveler are you? Let's find out…
Level 1: Beginner's Paradise
If you're relatively new to outdoor adventure, this is likely where you'll land. While a moderate level of fitness is recommended, you can expect to enjoy Alaska's breathtaking wilderness without strenuous physical demands.
Level 2: Get Ready to Hike
This level is suitable for those with some hiking experience and who can carry gear, face the elements, and tolerate Alaska's diverse insect population. You'll cover more than 5 miles a day with an elevation loss or gain of up to 3,000 feet. 
Level 3: Expedition-Style Backpacking
If you have a higher level of physical fitness and prior backpacking experience, you're all set. You'll carry gear weighing about one-third of your body weight over steep terrain and may hike up to 10 miles in a day with significant elevation changes. This is the time for self-sufficiency and the ability to handle your own gear as well as some group equipment.
Level 4: The Ulitmate Challenge
Let's go "packaneering," as we say, but it's also the most physically demanding. This level requires heavy physical conditioning and prior mountaineering experience. These trips are also suitable for capable Alaska Alpine Adventure (AAA) alums. Packaneers will carry heavy backpacks over glacier-covered, steep terrain for several consecutive days. This is a test of not only physical strength but also psychological commitment and staying power.
Once you learn more about intensity levels and know where you stand, you can sensibly explore trips based on that level—and feel confident with the adventure you choose.
Read What Adventurers (Like You) Are Saying
"Visiting one of the most remote places on earth with a group of people was an experience of a lifetime." –Josh S, July 2023
That's just a snippet of what one reviewer said in a much longer review. There are many direct, straight-to-the-core, bare-bones words of wisdom from people of all levels who showed up for the experience of a lifetime. We encourage you to see Alaska through their lens, get on the adventure train, and book your trip.
*Disclaimer: $200 savings offer is good for only two adventures: Katmai and Oohlah Valley backpacking trips. Use code AAANEW23 at checkout; offer is good through December 31, 2023.