Alaska is BIG! Not only is it the largest state in the union (even if you cut Alaska in half, Texas would remain the 3rd largest!), it's also the most magnificent. Some of what really sets Alaska apart from any other place North America is the incredible wildlife diversity, the vast quantity of protected public land, and the shear magnitude of its landscapes. And nowhere is the emotional and physical significance of the Alaskan landscape better represented than in Denali National Park.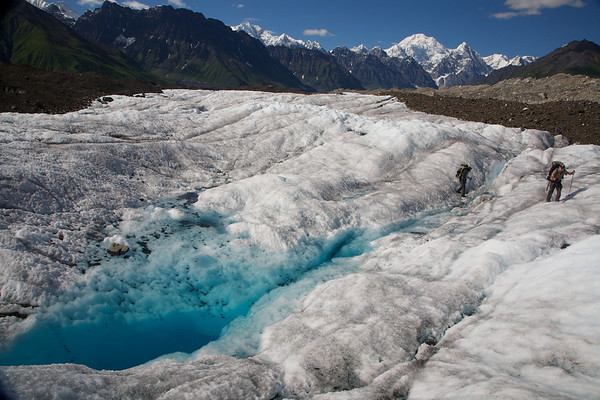 I took this shot of our longtime guests Mark & Joan Strobel as we were backpacking across the massive Tokositna Glacier on the south side of Denali in 2010. It took us 6+ hours to make our way through the labyrinth of moraine piles and melt-water creeks that define Alaska's low elevation valley glaciers. Honestly though, we could have probably completed the crossing in less time had we not often found ourselves occupied in silent stillness digesting stunning views of McKinley, Hunter, Huntington, and the "lesser" peaks of the Alaska Range. This was one of those days where emotional power of the landscape completely transcends the physical challenge of moving through it.
Thanks again for following Alaska Alpine Adventures. Look for us on Facebook or on Twitter- @AlaskaGurus. We've been more diligent about posting current happenings and trip videos on these social media platforms, so if you can't wait for the next photo of them month, then check us out there. You can also visit our Alaska Gurus Blog for past photos of the month and other AK rants. As always, we promise not to inundate your email boxes with anything other than a monthly Alaska pick-me-up!