I took this shot in July of 2007 while guiding a backpacking and mountaineering trip in Katmai National Park. Pictured is my senior guide Aaron Fetter overlooking the dramatic crater lake within the caldera of Mt. Katmai.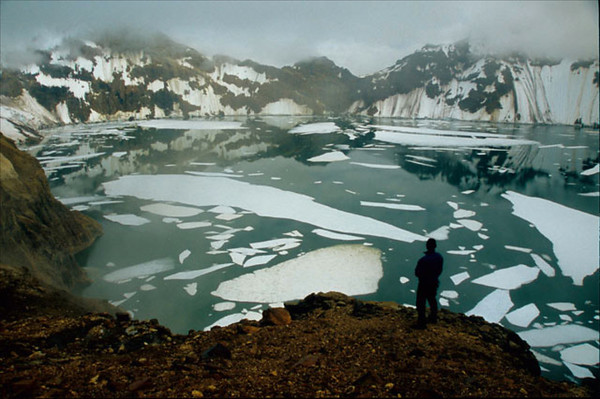 In 1912, the volcanoes of Katmai stood tall over a quiet, lush green valley where grizzlies roamed and moose made their home. All that changed on June 6, when one of the areas smaller peaks, Novarupta, blew in the largest eruption of the 20th century. The blast was so powerful it drained the magma from beneath nearby Mount Katmai, causing Katmai's summit to collapse into a caldera half-a-mile deep and eventually creating the lake pictured here. Novarupta also expelled enough magama and ash to cover an area of 3000 square miles more than a foot deep and created what today is known as the "Valley of 10,000 Smokes."
As you look at the photograph, keep in mind Aaron is standing 1000′ above the surface of the water and is over 2 miles away from the cliffs on the other side of the lake. The Katmai Caldera is simply one of the most astounding places in Alaska.
By no means is it easy to get here however! It requires a 4000′ climb to the caldera rim from our high camp on Knife Creek. A short bit of roped travel across the upper reaches of the Knife Creek Glacier is also necessary. But the rewards far outweigh the effort! If you want to see this place, then you should certainly consider The Valley Experience – a 10-day, level 3 backpacking trip in Katmai's Valley of 10,000 Smokes. On this trip, you'll also get to witness the famous brown bears of Brooks Falls and perhaps even stand on the summits of Mounts Mageik and Griggs – two active volcanoes that frame the Valley. It's the perfect trip for someone who wants a strenuous backpacking adventure combined with a straightforward introduction to Alaska mountaineering on big glaciated peaks.