As I was editing my slides (yes I'm still a 35mm film guy!!!) from last summer, this image nearly jumped from the light table. It fit my parameters for a photo of the month – an image that conveys solitude, bewilderment, wonder, wilderness, and adventure.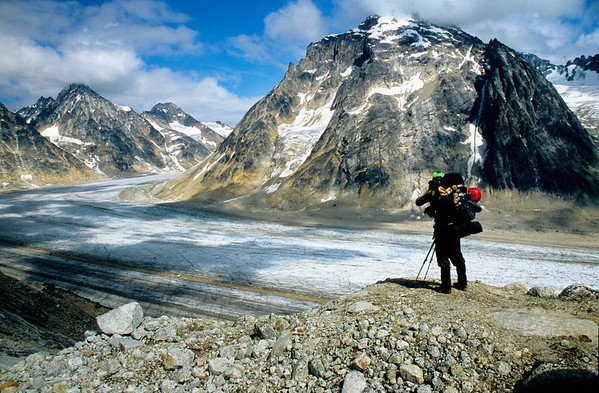 I took this shot of longtime client and great friend Mark Stevens as we descended from the storied Chickalusion Pass – the crux of a Dena'ina Athabaskan trade route that linked 19th century historic native communities on the east side of the Aleutian and Alaska Ranges with those on the west side. During our 12-day traverse of the Neacola Mountains, the geographic heart of Lake Clark National Park, Mark and I were able to reconnoiter the region thus concluding that we had found Chickalusion Pass.
The rest of our trip was amazing as we crossed 3 more glacier passes and traversed some of the most remote and rugged terrain in Alaska. Keep in mind, this was Mark's 7th consecutive trip with me, and his seasoned expertise in Alaska made him the perfect candidate for this adventure – one that I'd been dreaming of for almost a decade.
You may be saying, "That's far too rugged for me!" Worry not. While we do offer plenty of trips for experienced hikers, many of our adventures are suitable for novices. We've even taken motivated and fit people who've never camped before on some of our backpacking, kayaking, rafting, and basecamp hiking trips. A profound desire to see and experience the best of Alaska is all one really needs!