As I was sifting through images to feature for the March photo of the month, I discovered an unedited folder of pictures taken during an amazing Alaska backpacking trip into Katmai National Park in 2009. While I hadn't forgotten about the trip (it was incredible), I had misplaced the folder of images – something any of us with a digital camera and a computer definitely understands.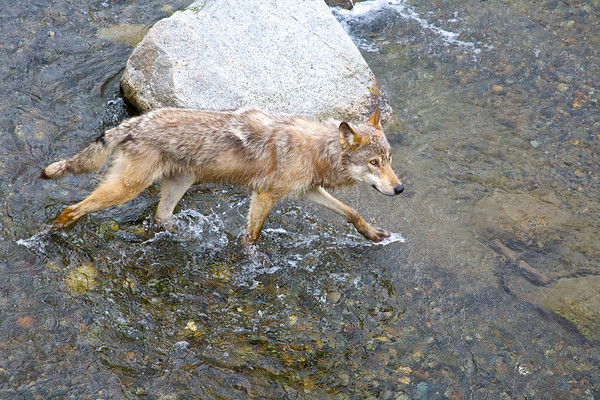 I got this shot in the Brooks River of Katmai and close to the world famous Brooks Camp. If you've ever seen a photograph of a brown bear standing near a waterfall and feeding on salmon, there's a 90% chance that it was taken at Brooks Falls. Brooks is a place where salmon, bears, and people meet each year for one of earth's greatest wildlife spectacles. On peak days in July, there will be 30 plus bears feeding at the falls as over 200 people shift shoulder to huge camera lens, safely perched on elevated platforms above the show. While one would never call it a wilderness experience, it's certainly one of a handful of places on the planet where a visitor can, at very close range, participate in an intimate gathering of brown bears and wild salmon.
On this particular day in July of 2009, a lone wolf fed right along side a dozen brown bears, each 10 times her weight. Interestingly enough, they paid her no mind, even though she appeared more adept at snatching the agile sockeye salmon than some of the local congregation. She fished as if she'd be tutored by the bruins themselves.
At one point, the wolf began to strut downstream along the south bank of the Brooks River. I took notice, pushed my way through the crowd, and hustled down the elevated boardwalk toward the lower platform about 100 yards downstream. To my amazement, the lower viewpoint was completely vacant, and as the wolf came off the grassy bank and into the river just upstream of the deck, I had just enough time to snap this photograph. So goes the magic of Katmai.
Thanks again for following Alaska Alpine Adventures. Look for us on Facebook or on Twitter- @AlaskaGurus. We've been more diligent about posting current happenings and trip videos on these social media platforms, so if you can't wait for the next photo of them month, then check us out there. You can also visit our Alaska Gurus Blog for past photos of the month and other AK rants. As always, we promise not to inundate your email boxes with anything other than a monthly Alaska pick-me-up!