Over the years, you've grown accustomed to my images of people playing in big Alaska landscapes. And based on the overwhelming positive feedback I get with each release, the photo of the month offers a momentary escape from the hectic reality of our busy lives and transports us, if only momentarily, to a place that is sublime. This monthly delivery offers a glimpse of Alaska majesty, even to those who haven't yet experienced the magic of the Alaska wilderness.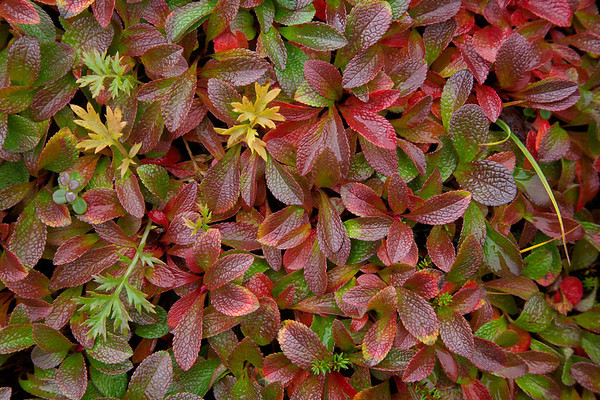 But the shadow cast by big mountain landscapes often obscures the simple beauty of Alaska that can be found directly under foot; from a damp and moss clad stone perched on the talus slope in the Arctic, to a neon orange lichen clinging to a fragile biotic crust in Denali. Days when the mountains are cloaked in cloud cover are opportunities to stop, look down, and admire the surroundings more immediate. I took this shot in August of 2009 on my second traverse of Alaska's Revelation Mountains. The primary plant in the image is Alpine Bearberry which is a common resident of the alpine tundra – a community of vascular plants, mosses, and lichens that thrive above tree line. While the month of May signals the perennial re-emergence of life in Alaska's low elevation forests, August delivers a hint of winter to the tundra country on a palate of autumn color.
Thanks again for following Alaska Alpine Adventures. Look for us on Facebook or on Twitter- @AlaskaGurus. We've been more diligent about posting current happenings and trip videos on these social media platforms, so if you can't wait for the next photo of them month, then check us out there. You can also visit our Alaska Gurus Blog for past photos of the month and other AK rants. As always, we promise not to inundate your email boxes with anything other than a monthly Alaska pick-me-up!