Welcome to photo #2 from our June, 2009 adventure into the Arctic National Wildlife Refuge! On this trip we climbed the highest peak in the Brooks Range – Mt. Chamberlin – and rafted out the Hulahula River to the village of Kaktovik.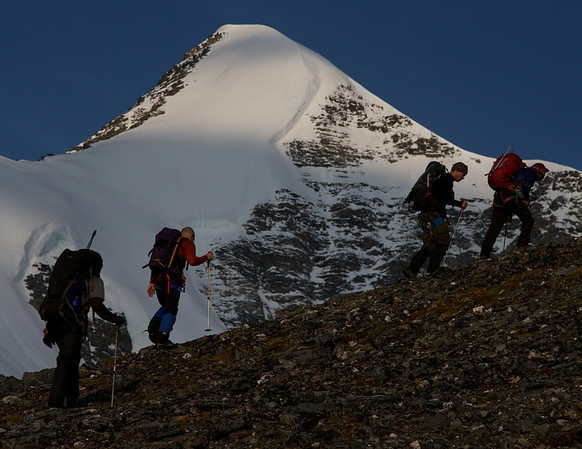 This shot was taken even higher than last month's photo above the Hulahula River – on our summit attempt of Mt. Chamberlin. Here, with the false north summit of the mountain dominating the backdrop, our group hikes a shale bound spur of the north ridge at approximately 7000′. We would eventually make it to the north ridge proper, and climb the snowy ramp pictured on the right horizon. It was an incredible day!
The views and vistas in the Arctic are like no where else on earth, and when you combine incredible solitude, 24 hours of summer sunlight, and diverse flora and fauna, it's easy to realize why a hiking and rafting (or even climbing!!!) trip to the Refuge is certainly one to put at the top of the life list!