I've decided to dedicate the next few images to Denali National Park – a place we got to know a little better this past summer. As many of you know, my passion is exploring the unexplored. I'm thankful to live in a place on earth where the notion of "unexplored" is real and opportunity to share these landscapes with others is possible.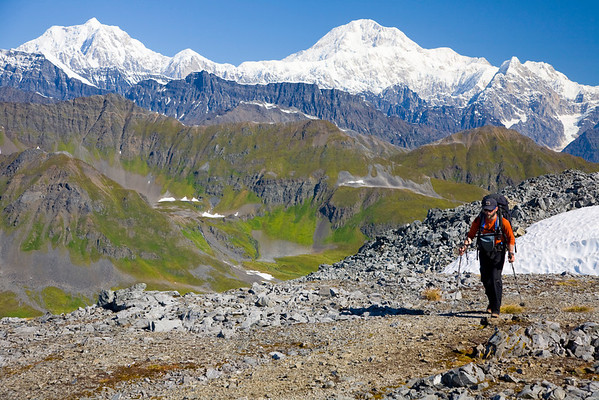 Since my early years in Lake Clark National Park, no place has captured my imagination as quickly as the south side of Denali. This summer, I was able to spend 15-days exploring this amazing area of Alaska's crown jewel. While we were certainly not the first to investigate this region of the Park, it is likely that we camped in places that had never seen a tent and stepped on ground that had never seen a boot.
Longtime guests Mark & Joan Strobel, a couple from St. Paul, MN who like to do long and difficult backpacking trips, joined me and my general manager Aaron Fetter on this incredible adventure. Not only did we backpack over 50 miles of breathtaking, and sometimes difficult wilderness, we also enjoyed near perfect weather during a summer of particularly imperfect weather!
This shot of Aaron was taken at a pass about mid-way through our traverse from the Ruth Glacier to the Dutch Hills and about 4 miles west of the Tokositna Glacier. In the backdrop from left to right you're looking at the south peak of Mt. Hunter (13,966′), Denali (20,320′) and Mt. Huntington (the rocky one at 12,240′).