We Explore 7 (of 8) of Alaska's National Parks and You Can Too!
There's nothing like the beautiful wilderness of Alaska to inspire exploration. Did you know that there are eight national parks in Alaska, and we adventure through seven of them with guests just like you?
Alaska hosts 226 million acres of federal public land—that's nearly the size of Texas and California combined! You can dip into your adventurous spirit with some of the most awe-inspiring scenery in the world. Whether you're into kayaking, rafting, backpacking, or basecamp hiking, our guides will help you truly connect with nature like never before.
Here are some of the off-the-beaten-path destinations we travel to:
Take a peek at this article and get an in-depth look at these incredible national parks. When you're ready to get your adventure on, simply browse through our trips or give us a call at 1-877-525-2577.
TRAVEL TWO NATIONAL PARKS IN ONE TRIP!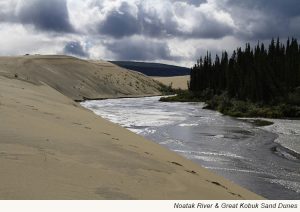 Gates of the Arctic & Kobuk Valley National Parks
Don't miss adding these two incredible national parks to your adventure must-do list. With 12 days of rafting and hiking, this Level 2 intensity adventure will take you through two of Alaska's most remote and difficult-to-access National Park units.
Your adventure will begin with six days of river life in the Gates of the Arctic and the Noatak National Preserve—with one of the longest untouched rivers on earth.
Keep your eyes peeled for caribou, moose, sheep, muskoxen, and grizzly bears on the landscape as you navigate through untouched wilderness.
Then, you'll hop on a bush flight to the Kobuk Valley National Park and the Great Kobuk Sand Dunes to explore the area with light daypacks. These are the largest active sand dunes within the arctic, covering 25 square miles.
P.S. Enjoy this quick excerpt about the Noatak trip from guide Haley Johnston. It's an eye-opener!