If you think getting to Alaska is expensive, then you haven't traveled within Alaska yet! In fact, to get from Anchorage to my cabin on Lake Clark costs a few dollars more than getting from Anchorage to Seattle. So if you want to get into a remote national park like Lake Clark, Gates of the Arctic, or Katmai, then you're going to need to crawl into a small airplane and be prepared to shell out some serious cash. People often ask why our guided trips are so expensive. The primary driver is the air expense to get to the places we explore. Not only is it logistically challenging to get into the most remote corners of Alaska, it's also incredibly pricey and sometimes time consuming. If you choose an Alaska adventure trip where an airplane is necessary, then here's a list of our favorite air services on Alaska's mainland (this is not to slight southeast or Kodiak Island!) to get you in and out of the wilderness safely!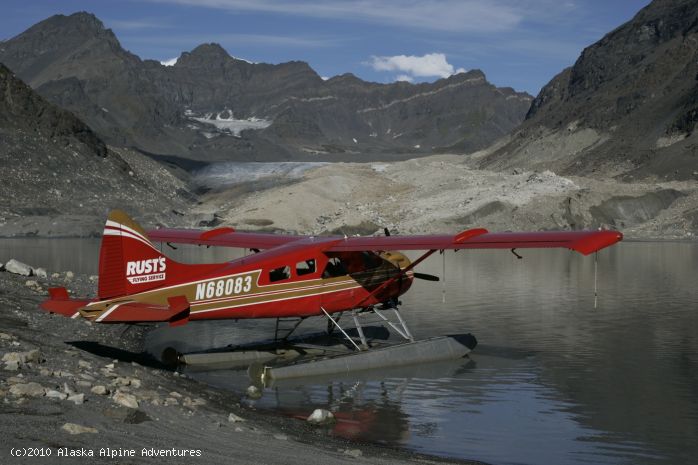 A RUST'S FLYING SERVICE PLANE PARKED AT MORAINE LAKE, DENALI NATIONAL PARK ©DAN OBERLATZ
Rust's Flying Service – With enough airplanes for any size group, Rust's offers summer floatplane and winter ski plane operations based on Lake Hood in Anchorage. We love Rust's because of their reliability, flexibility, and great customer service. Furthermore, their planes are beautiful and their pilots excellent. If you need to fly out of Anchorage and would prefer to make one phone call, call Rust's.
K2 Aviation– Suzanne Rust (Todd Rust would argue his better half) operates the other segment of their family Alaska air taxi – this one based in Talkeetna! Not only do they have one float plane for summer operations, they primarily focus on flightseeing and support services for the National Park Service and climbers needing to access the most remote regions of Denali National Park. Again, great airplanes, pilots, and customer service help keep the bar high!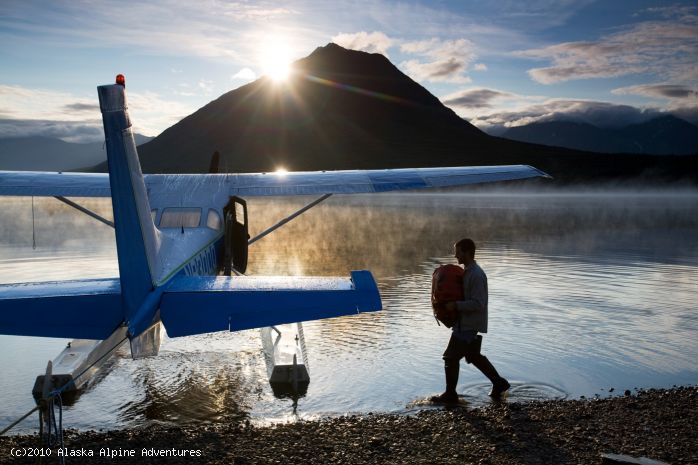 LOADING A LAKE CLARK AIR FLOATPLANE ON THE SHORES OF TWIN LAKES IN LAKE CLARK NATIONAL PARK ©COREY RICH
Lake Clark Air – Since my first flight with Lake Clark Air in 1992, this family company will get you anywhere you need to be between Anchorage, Lake Clark, Katmai, and the Alaska Peninsula at a fair price and with great customer service. No only does Lake Clark air offer daily seat-fare service between Anchorage and southwest villages, they also have floatplanes and capable big-tire bush planes to get you where you need throughout the southwest portion of the Alaska Range and the entire Aleutian Range. When you fly with Lake Clark Air, you have lots of aviation history in the pilot's seat.
Lake and Pen Air – Another family operation based in Anchorage and Port Alsworth (Lake Clark), Lake & Pen Air is owned and operated by the Wilder Family. Lake & Pen offers affordable seat-fare between Anchorage, the Kenai Peninsula, & Lake Clark/Iliamna Lake, and have been flying the Bristol Bay region for over 30 years. Their experience shows through their entire operation and they always greet their guests with a smile and a level sophistication often hard to find in Alaska.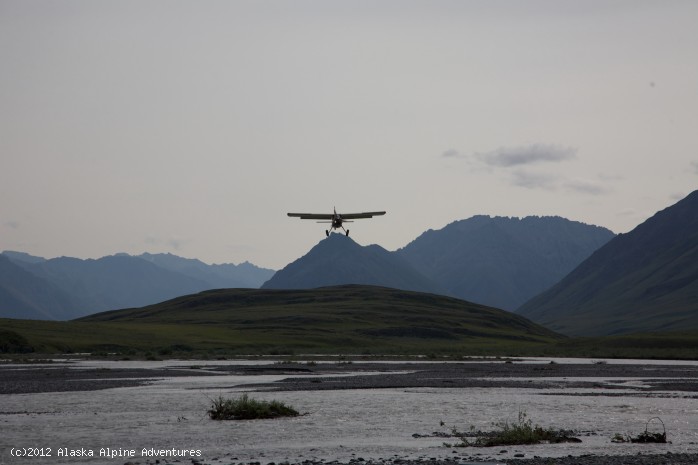 A WRIGHT AIR SERVICE HELIO COURIER ON TUNDRA TIRES, COMING IN TO LAND IN THE ARCTIC NATIONAL WILDLIFE REFUGE ©DAN OBERLATZ
Wright Air Service – It's always fun to fly with Wright Air! Their airplanes are as tight as their operations, and when you check in for your flight you're immediately made aware of the complex volumes of people and freight that they fly around Alaska's vast interior each day. Wright Air is a case study in efficiency and pure operational expertise. If you're in Fairbanks and need to get into Gates of the Arctic NP or into the Arctic National Wildlife Refuge, give them a call. You have our word!
Coyote Air Service – To call Dirk & Danielle's air taxi a mom & pop would only be a half truth – they are parents after all! But the way they make their living is both inspiring and enviable. These guys run one of the great air taxis in Alaska and they'll get you into either Gates of the Arctic or the Arctic Refuge from their base of operations in Coldfoot, AK! While it may take one extra step to get to Coldfoot (do yourself a favor and call Warbelow's), that step is worth it when you're choosing an air service to get you into some of Alaska's most remote wilderness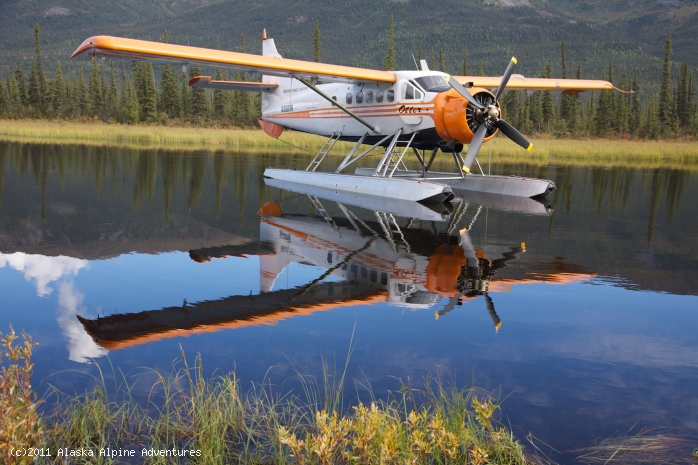 A BROOKS RANGE AVIATION FLOATPLANE ON THE ALATNA RIVER IN GATES OF THE ARCTIC NATIONAL PARK ©DAN OBERLATZ
Brooks Range Aviation – Another of the greats! Jay & Judy Jesperson own and operation what is arguably one of the most unique air services in Alaska. Based in Bettles, AK – the gates to Gates of the Arctic – these guys have the optimal fleet to get any group where they need to be in the western Brooks Range. From the John River to the Noatak, BRA has a long and storied history of flying this part of Alaska's far north. We've always been impressed with their down-home customer service, incredibly fair business practices, and their super cool airplanes.
Katmai Air – This multi-generational family of aviators has been flying the Bristol Bay region and beyond for well over 50 years, and they also happen to have operate some of Alaska most famous wilderness and sportfishing lodges; including Katmai National Park's world famous Brooks Lodge. Whether you're looking to get to Brooks Camp, out to the Valley of 10,000 Smokes, or other points in Katmai, Katmai Air is the best call.
Golden Eagle Outfitters – If having a summertime base of operations in Kotzebue – a village on Alaska's northwest coast- is your metric, then these guys get the prize for Alaska's most remote air taxi! They also happen to be really good pilots and super fair business owners. If you're a national park list checker and need to get to Kobuk Valley National Park, Cape Cruzenstern, or Bering Land Bridge – arguably the most expensive national parks to visit in the system – then give these guys a call.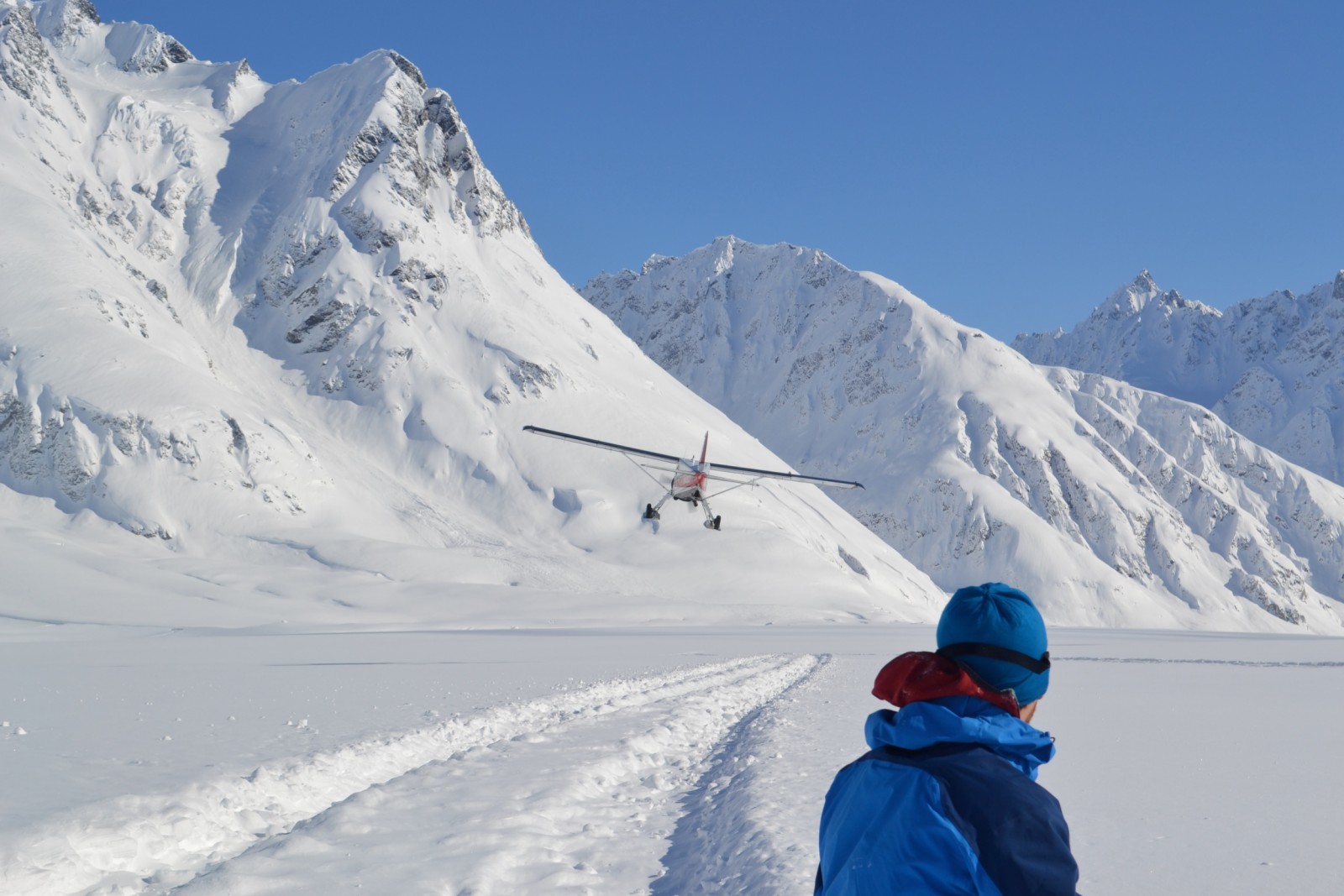 DOUG BREWER OF ALASKA WEST AIR TAKES OFF FROM A GLACIER IN THE NEACOLA MOUNTAINS OF LAKE CLARK NATIONAL PARK ©HALEY JOHNSTON
Alaska West Air – In the 1980's, pilot and Alaska adventurer Doug Brewer helped set the stage for the explosion of backcountry skiing in Valdez Alaska. Here he perfected his mastery of mountain flying and glacier landing his DeHavilland Beaver by dropping skiers in the highest reaches of Alaska's Chugach Mountains for far less money than the helicopters could. Today this family air service out of north Kenai is one of the most reputable operators out there. With a fleet of beautiful airplanes and a true passion for aviation, these guys will get you into the Alaska's most rugged country. If you want to go ski & climb in the Neacola Mountains or the Chigmit Mountains, then Alaska West is your ticket.
Wrangell Mountain Air – Another company whose admirable success carries with it an incredible story of perseverance, passion for aviation, and a true love for Alaska's largest national park – Wrangell-St. Elias. Kelly & Natalie Bay have been flying Alaska's incredibly complex wilderness for well over 30 years and their competence is only matched by their timely efficiency. If you're looking to get deep into Alaska's Wrangell-St. Elias National Park, you've found the right air service with these guys.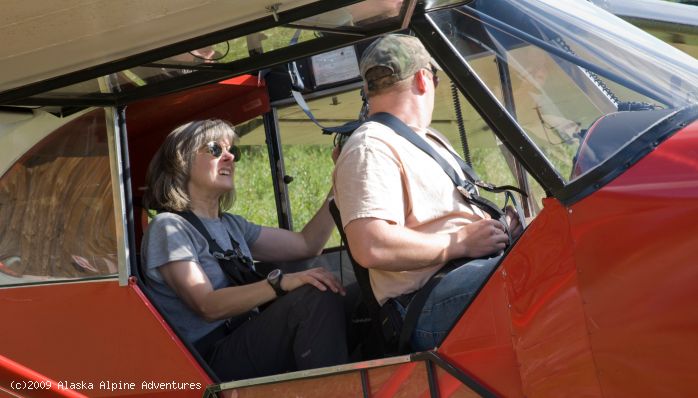 ABOUT TO TAKE OFF IN AN ULTRALIGHT SUPER CUB ©DAN OBERLATZ
Devils Mountain Lodge – Last but certainly not least is the Ellis Family! Kirk & Gennie Ellis have been living and operating their lodge and air service deep in the wilderness of Wrangell-St. Elias National Park for over 40 years. Kirk's expertise as a pilot is legendary, and only matched by his deep knowledge of the northernmost portion of our nation's largest National Park. If you want to see the north Wrangells, then call the Ellises!
All that said, you don't have to fly in Alaska to get way-the-hell out there! If budget is a concern, then you should seriously consider a road-based wilderness experience. Places like Chugach State Park, the Talkeenta Mountains, Denali National Park, and the eastern Alaska Range, to name just a few, offer great access from the road. Generally speaking, a 2-hour hike away from any trailhead will put you in utter trail-less wilderness and provide you with as much Alaska solitude and majesty as the more expensive destinations. In addition to airplanes, other modes of transportation offering access to Alaska are water taxis, Alaska's ferry system, helicopters, the railroad, rental cars, and shuttle buses/vans.
Feel free to give us a call any time for advice or for suggestions for your Alaska backcountry adventure. Our price for advice is based on our very simple "beta for bourbon" program. An hour of our time is generally worth a fifth of Maker's Mark. If you take up an extraordinary amount of our time with your questions, then may we suggest a bottle of Pappy Van Winkle or similar small batch bourbon for the effort. We're also fans of good Scotch, but seem to prefer anything more mature than 12 years. In the 21st century, you may not find a better or more convenient deal!