There are Remote Destinations…and Then There's the Arctic National Wildlife Refuge
EXPLORE AMERICA'S SERENGETI
While you might not see another human…caribou, polar bears, grizzlies, and muskoxen are just a few of the animals that wander through parts of the Arctic National Wildlife Refuge (ANWR). This remote destination (of 19 million federally-protected acres) is unparalleled when it comes to adventure. The nickname "America's Serengeti" lives up to its reputation—its vast range supports more species and habitat diversity than any conservation area in the northern hemisphere.
ANWR is one of the few places left where you can connect with utter serenity, yet enjoy hiking in one of the most user-friendly and approachable wilderness areas in Alaska. There's remote…and then there's ANWR.
Don't miss the trip of your lifetime. ANWR is sold out this year so there's no better time to snag your 2022 spot before it's gone!
MARK & JOAN STROBEL ARE BACK FOR HIKE #3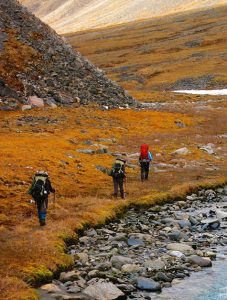 Alaska Alpine Adventures' veterans, Mark and Joan Strobel, are headed back to our neck of the arctic to hike the "third leg" of ANWR in 2021. They've successfully completed the first two legs of the journey with owner and pro guide Dan Oberlatz.
With ample wildlife and gorgeous mountain scenery, it's no wonder they're returning for more.
Be like Mark and Joan…
TRY SAYING THIS: ANIAKCHAK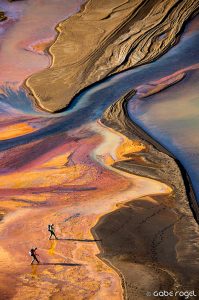 JOIN THE RING OF FIRE ADVENTURE IN "ANIAKCHAK" AND YOU'LL:
Hike around the mighty Aniakchak Caldera
Climb Vent Mountain
Visit the site of the 1930 eruption
Explore the caldera flower and hike its rugged rim
Adventure through Katmai National Park
Scour hillsides for coastal grizzly bears
Christopher Soloman, Outside Magazine, reveled in his Aniakchak adventure with guide Dan Oberlatz in 2014, stating "We see salmon gather in the bays, sniffing for their home rivers—and see bears come down to the shore, ready to flick their sushi onto the sand." You can read his in-depth story here, but why live vicariously through others? Start your own journey now.